Well Pumps with Enhanced Corrosion Resistance
The established Well Pumps range of 4" borehole pumps – in 304 grade Stainless Steel – has now been augmented by the addition of a new version of each size with all components (except rubber bushes & bearings etc.) in 316 or 316L grade Stainless Steel.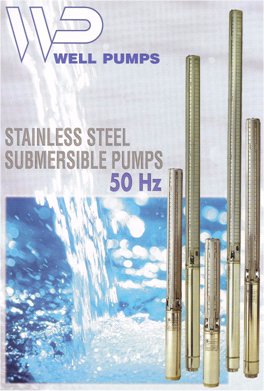 Anyone who uses pumps in aggressive environments will recognise the enhanced corrosion resistance these materials give the units as a significant advance over the existing range of pumps.
Customers will be familiar with the standard Well Pumps features :
Robust construction using 1mm minimum thickness cold pressed stainless steel sheet components.
6-spot welding on each impeller vane – and 6-point contact between each impeller & the hexagonal shaft.
Special high nitrile content over-sized rubber bearings, steel-reinforced neck rings & water-lubricated top bearing for excellent abrasion resistance.
In addition to with these qualities, the use of 316 SS gives users the opportunity to handle sea water and contaminated mine- or groundwater together with a myriad of other industrial contaminants and the reassurance that the pump will give long, reliable and efficient operation.
Pump performance is identical to that of the existing five models, giving flow rates up to 15m³/h and heads up to 390m from a range of impeller stacks.
The new pumps are available in the UK from Proquip Direct Limited who already hold stocks of the 304 stainless steel range and Franklin motors to suit.
Proquip Direct Limited supply a wide range of borehole pumps, motors, controls, flexible rising main & borehole chemicals.