Weir Minerals: Exceptional Performance from Slurry Pumps on Trial
Weir Minerals Africa has obtained consistently exceptional results after introducing a Warman SLR medium duty slurry pump on trial at Consol Industrial Minerals (CIM) in Cape Town more than a year ago. After 2,000 hours of operation the pump was opened for its first inspection, revealing that there had been no visible on the impeller or sealing arrangement.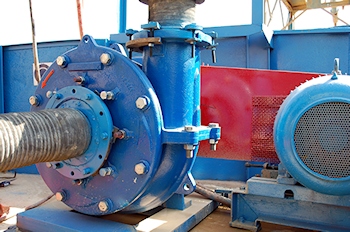 The Warman SLR slurry pump (Image: Weir Minerals)
While the competitor pump required an impeller change every 3,000 hours, the Weir Minerals Africa team confidently predicts that the patented SLR pump will last as much as four times longer – up to 12,000 hours — before replacement will be needed. At the time of going to press, no wear parts on this pump have needed replacing.
CIM, an established customer of Weir Minerals Africa, has been in operation for more than 40 years, mining silica sand primarily to supply the Consol Glass factory in Bellville. CIM also produces special application silica sands for many other external markets. The operation is located on a 96 hectare site in the heart of Philippi which contains a natural silica deposit, and mining currently takes place to a depth of 20 metres below ground in a dredging operation. The silica sand is screened and washed, then sized using a hydro-sizing process. Once dried, the sand is packaged for bulk delivery. The CIM process plant produces about 200,000 tons of silica sand annually.
"When this customer started experiencing gland sealing arrangement problems with an existing pump, we offered them a trial replacement with one of our new technology SLR pumps to improve both the sealing arrangement and the overall performance," Rui Gomes, product manager for slurry pumps at Weir Minerals Africa, says. "The maintenance and short wear life of the existing pump parts were also an ongoing problem. The existing unit was leaking while in operation which, in turn, caused the shaft sleeves to fail, resulting in regular packing change-outs.
"The Warman 75 SLR pump has proved to be the solution to these problems. This pump is fitted with an expeller that seals the gland without any leakage while in operation and does not require any external flushing water.
"The SLR pump's very effective Hi-Seal shaft seal is a major improvement on what has been available up until now and, from the outset, we saw an immediate improvement at the CIM plant. Regular monitoring has proved that the pump is sealing correctly and continues to do so."
In addition to the patented Hi-Seal arrangement, Gomes attributes the excellent performance of this pump to its hydraulic design. A single-piece rubber volute has been adopted instead of two liner halves for alignment purposes. This volute is moulded in Weir Minerals' proprietary state-of-the-art abrasion and corrosion resistant R55 rubber. This rubber has consistently shown very good resistance to shearing in test and field installations, ultimately extending the lifespan of the wet end parts for longer periods than those of conventional elastomer products.
"Another feature that improves wear life is that both the adjustable throat bush and back liner are fully adjustable, keeping the impeller clearance at an optimal distance," he adds. "This is a feature on all our new pumps and it is really paying dividends. Over time, the gap between the side liner and the impeller opens up as a result of wear and by simply adjusting this clearance regularly, plant operators can maintain pump efficiencies at optimal levels throughout the life of the pump. The liners and impeller are fully replaceable and the latest high performance centrifugal shaft seal design is provided as standard."
The SLR pump uses high capacity bearings which allow it to operate with a much higher motor capacity if required, as opposed to installing a larger sized pump. The shaft diameter has also been increased to minimise deflection and lengthen the life of the bearings.
"One of the most attractive features of this particular pump is the sealing arrangement on the bearing assemblies which prevents the ingress of foreign materials that compromise bearing life," Gomes comments. "This is a feature that has been added in response to market requirements, making it possible for plant operators to hose down the pump without any risk of water causing the bearings to fail prematurely."
Warman SLR slurry pumps are fully manufactured in South Africa at Weir Minerals Africa's foundry and rubber shop in Gauteng.