Web Videos by WMFTG Communicate the Benefits of Peristaltic Hose Pumps Over Alternative Pump Technologies
Watson-Marlow Fluid Technology Group (WMFTG) has produced a series of high-quality web videos to educate process engineers and specifiers on the benefits of its Bredel hose pumps over alternative pump types.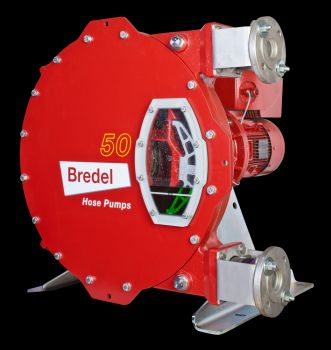 Watson-Marlow Fluid Technology Group
WMFTG's industrial pump specialists hope the videos will establish wider market understanding of the advantages of Bredel pumps. In particular, a focus is given to comparisons between Bredel technology and progressive cavity (PC) and air operated diaphragm (AOD) pumps.
The videos will be available to view on the Bredel section of WMFTG's website. The online accessibility of the videos ensures this content can be used as an invaluable 'educational' tool for the company's worldwide network of sales engineers and distribution partners. The videos offer a new and engaging way to introduce pump users to the Bredel technology.
Commercial case for Bredel
According to Remko Bezemer, Product Manager, the Bredel web videos will strengthen the commercial case for Bredel's technology.
"These videos give our global customer base very easy and 'on demand' access to a suite of detailed visual content. Each video is designed to increase general understanding of the financial and operational benefits of Bredel technology. We have placed a real focus on the comparative benefits of our technology when pitched against alternative pump types."
Mr Bezemer hopes that the new videos will enable industrial manufacturers to become more aware of their potential to maximise process up-time by switching to Bredel pumps.
"Many of our customers report rapid payback having swapped to our technology. The common issues associated with AOD and PC pumps - such as breakdown costs; lost production time due to maintenance; and the high cost of spares and inventory. We use a mix of animated graphics and a clear, concise visual narrative to explain the benefits of Bredel technology – this is relevant to all levels of buyer, user and specifier."
Energy consumption is also highlighted in the videos as a benefit of Bredel technology. By way of an example, tests and calculations have shown that Bredel heavy duty hose pumps can save up to 80% in energy costs per pump in comparison with AOD pumps.
Four Themes Covered
There are 4 Bredel videos available to view - as follows:
1.Bredel Hose Pumps: Engineered simplicity

This animation explains the principle of Bredel hose pumps. This includes a summary of the benefits in comparison to alternative pump types.

2.Bredel and APEX hose pumps: Helping you decide

This is useful comparison of two highly successful and widely adopted WMFTG product ranges - Bredel and APEX. The video explains the features, benefits, applications, flow and pressure of both ranges.

3.Bredel hoses: Key features of Bredel hose elements

Every hose is precision machined to guarantee tolerances and perfect hose compression. Pump life and efficiency depends on an original Bredel hose being fitted in our pumps.

4. Bredel hose pump accessories

Understanding how to enhance your hose pump operation is an important aspect of any process engineer's role. This video communicates the role correct use and specification of accessories plays in pump performance – and explains what accessories are available from Bredel.