Web-based Subscription Service for ANSI-Approved Pump Industry Standards
The Hydraulic Institute (HI) has selected Techstreet, Inc. to provide secure online distribution services and a web-based subscription service for its ANSI-approved pump industry standards.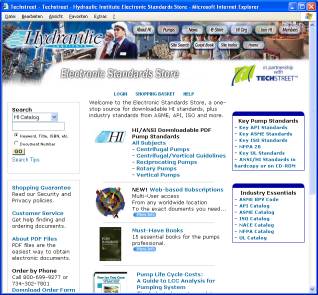 The Institute's standards are now available through HI's e-store at www.pumps.org, in individual downloadable format or through a company-wide multi-user license, accessible online, worldwide.
HI's e-store offers the pump industry's latest and most comprehensive line of standards, books, software and educational materials. "Our customers have asked us for new electronic delivery options. Many corporations and technical libraries have sought multi-user access to ANSI/HI standards, and now we can deliver. Our partnership with Techstreet provides users with improved access to all HI technical resources as well as an expanded selection of industry-related reference essentials," said Robert K. Asdal, executive director of HI.
Techstreet provides HI with new tools and resources that were not previously available to HI customers. Not only can they access HI documents quickly and easily, but customers can also find and purchase standards from related publishers like ASME, API, and ASTM. "The HI e-store at www.pumps.org offers robust options for individual and corporate users alike. Our new subscription service fills a void in product/service offerings. The HI web site has truly become the definitive information source for the pump industry," said Andrew Bank, vice president of business development for Techstreet.
Latest Products
Widely-accepted, ANSI/HI Pump Standards are designed to help eliminate misunderstandings between the pump manufacturer, purchaser and/or user, and to assist the purchaser in selecting and obtaining the proper product for a particular need. The latest ANSI/HI Pump Standards, 2002 Release can be purchased as a complete set or as individual documents. Using Techstreet technology, new web-based access to the HI standards provides company-wide usage of up-to-date standards for one or more simultaneous users, 24 hours a day, from anywhere in the world. Users can build a custom subscription, defining the particular standards to be accessed and specifying the number of simultaneous users. The documents can be downloaded for short-term, off-line use locally.
Another new HI product is an Annual Subscription Service for the ANSI/HI Pump Standards in hardcopy format. The service makes it possible for users to receive the very latest and most comprehensive pump standards as soon as they are published. In fact, four new standards are in development by HI committees and anticipated for release later this year. These will automatically be sent to annual subscribers as part of the new service. Full details are available on-line and in a downloadable standards brochure.
Additional offerings include the 200-page reference guide, Pump Life Cycle Costs: A Guide to LCC Analysis for Pumping Systems, the HI/DOE-sponsored video education program on "Energy Reduction in Pumps and Pumping Systems," HI's Engineering Data Book – 2nd Edition, Pump Handbook – 3rd Edition, and a new on-line educational program on "Centrifugal Pumps: Fundamentals, Design and Applications."
Techstreet is a digital content delivery company that offers information management, sales, and fulfillment services to leading associations and technical content publishers. Techstreet has licensing and distribution agreements with over 250 different publishers enabling the company to print tens of thousands of documents on-demand for fast efficient delivery. Techstreet also operates its own technical information store at www.techstreet.com that sells nearly 500,000 technical documents, including 93,000 for immediate download. Over 45,000 technical professionals use Techstreet's content delivery services for their information needs.
The 86-year old Hydraulic Institute, the largest association of pump producers in North America, serves member companies and pump users by providing product standards and forums for the exchange of industry information. For more information on the Hydraulic Institute and its line of products available through the e-store, services, standards, publications, meetings and educational offerings, visit the HI web site at www.pumps.org and www.pumplearning.org. Requests may also be faxed to (973) 267-9055 or mailed to Hydraulic Institute, 9 Sylvan Way, Parsippany, NJ 07054. Visitors to the HI web site are invited to sign the HI Guest Book.