Waterjet Manufacturer Jet Edge Celebrates 25th Anniversary
21.04.2009
Jet Edge, Inc., a leading manufacturer of industrial waterjet cutting and surface preparation systems, is celebrating its 25th anniversary in the waterjet industry in 2009.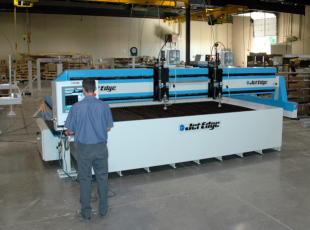 Jet Edge's new Mid Rail Gantry waterjet system is capable of cutting virtually any material. Courtesy Jet Edge.
Jet Edge entered the waterjet industry in 1984 as a manufacturer of 55,000psi waterjet intensifier pumps for precision water jet cutting and 36,000psi waterjet pumps and portable equipment for mobile waterjet cutting, cleaning and surface preparation applications. Jet Edge began manufacturing precision waterjet cutting tables in 1998. In 2007, it became one of the first waterjet manufacturers to offer a 90,000 psi waterjet intensifier pump, which increases productivity by 40-50% for many materials and reduces operating costs by as much as 40%.
Jet Edge waterjet systems are used around the world by a wide variety of industries, including aerospace and defense, automotive, petrochemical, energy and general manufacturing. Jet Edge precision waterjets cut virtually any material, from metals and stone to carpet, foam and even food. Jet Edge's waterjet surface preparation tools are used for paint, coatings and corrosion removal, and Jet Edge mobile waterjet cutters are primarily used to cut pipelines, steel reinforced concrete, reactor vessels and fabricated metal structures. They are ideal for cutting where flames and heat are restricted.
"Jet Edge's success over the past 25 years can be attributed to our phenomenal customer loyalty and our company-wide dedication to providing quality products and outstanding customer support," said Jude Lague, Jet Edge president. "We are very proud of the fact that 97 percent of our customers say they would buy from Jet Edge again. That speaks volumes of our products and our employees."
About Jet Edge
Established in 1984, Jet Edge is a global designer and manufacturer of waterjet systems for precision cutting, surface preparation and coating removal. Jet Edge systems are used around the world in a broad range of industries, from the world s leading airlines to automotive, aerospace, industrial manufacturers, machine and job shops. Jet Edge waterjets are proudly made in the U.S.A.