Water Treatment Controllers now Support Reliable Hall Effect Water Meter
Walchem announces that WCT and WBL controllers are now capable of powering a Hall Effect style water meter sensor. Options for the WFP Series flowmeter include a low frequency (less than 10 Hz) contacting head meter, or a high frequency (10-300 Hz) paddlewheel.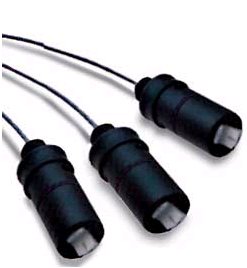 Paddlewheel sensors cost less than contacting head meters in pipe sizes greater than two inch diameter. The solid state Hall Effect sensors last longer than the mechanical reed switch sensors.
The WFP Series is perfect for chemical proportioning applications, and readily interfaces with Walchem's WebMaster® series controllers.
WFP flowmeters are impeller-type insertion meters designed for use in pipe sizes of 1/2" to 8". High quality jewel bearings and nickel-bound tungsten carbide shaft are used, creating superior low-flow performance. The rotation of the rotor is detected by a non-drag Hall-effect sensor. Output is a pulse-type square wave, which can be sent up to 2000 feet (610 meters) without a transmitter. Mounting fittings and sensors are available in PVC.
Low frequency Hall Effect sensors simply connect it to the controller (power, input and ground). Selecting 'Feed' on water meter mode and programming the volume per contact of the meter completes the process.
Paddlewheel sensors connect to the controller (power, input and ground). 'Feed' is selected on Paddlewheel mode and pulses are programmed per volume (K Factor) of the meter. In order to change the electronic filtering used on the input to support the paddlewheel frequency, a jumper must be moved on the front panel processor board.