Water for All – Leybold Strengthens a Long-Term Project of the Atlas Copco Group
Leybold Managing Director Johan Van der Eeken and Project Manager Stephan Hohenadl today handed over a donation cheque for 5,930 Euros to Eva Heemann and Cemre Altinsoy for the employee initiative `Water for All´. Since 1984, Water for All has supported projects that provide people in need with access to clean drinking water, sanitation and hygiene.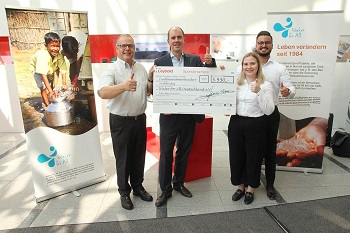 It is Atlas Copco s most important non-profit initiative and is funded through employee volunteer contributions. In total, more than two million people have now gained access to clean drinking water thanks to Water for All. The Rohingya refugees in Bangladesh were also recently supported with donations from the Welthungerhilfe. In the long term, the focus is on supporting sustainable water supply and hygiene projects, especially in Africa.
Every company knows this: over time, articles accumulate which are not sold to the extent that their manufacturer would like. And without incentives, little will happen. The sales teams of Leybold found a threefold original way. "It was important to us to find a lever to make the benefits clear to everyone involved. When we presented the concept to the sales department, I was very pleased with the immediate support for this project," says Stephan Hohenadl, who is responsible for this unusual campaign: "To reduce inventories, we launched a so-called Red Tag campaign, which offered corresponding products on the market at special conditions. The articles were then sold at a very attractive price and our warehouse was cleared," explains Hohenadl.
That alone was nothing special - but the sales team s highlight was a percentage share if the minimum sales price was exceeded and, linked to this, the second highlight: the sales team thereby made a percentage contribution to the renowned social project Water for All of the parent company Atlas Copco.
5930,- Euro turn into a donation of 17,790,- Euro for a good cause
"Our cooperation with Welthungerhilfe makes it possible for institutional donors to double the donation and ultimately raise 17,790 Euros for our joint aid projects," Eva Heemann and Cemre Altinsoy from the Atlas Copco employee initiative were delighted when they accepted the cheque.
"Leybold has been part of the Atlas Copco Group since 2016 and I am very pleased that this initiative has been so positively received and supported by our staff," emphasizes Johan Van der Eeken, who has known Water for All from the Group for years. This campaign is a win-win situation for everyone: "It supports sustainability to a special degree and serves to make life easier for those in need in a direct way," says the Leybold Managing Director.
Picture: In Cologne, the Leybold management hands over a donation to the Atlas Copco employee initiative Water for All for sustainable aid projects in Africa. From left to right, Johan Van der Eeken, Stephan Hohenadl, Eva Heemann und Cemre Altinsoy are pleased that the Red Tag sale from Leybold brings together a total amount of 17,790, which will be used in drought regions to strengthen self-help capabilities. (Image: Leybold )