Wärtsilä Pumping Solutions Chosen for New North Sea Oilfield FSU
Wärtsilä has signed a contract for a range of pumping solutions for a new Floating Storage Unit (FSU) which will operate on the Mariner oilfield in the North Sea.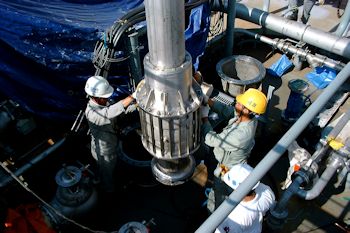 Pump Installation (Image: Wärtsilä)
Wärtsilä s contract was signed in late 2013 with Samsung Heavy Industries (SHI) which will build the FSU in South Korea on behalf of Statoil, the Norway based international energy company. Delivery of the Wärtsilä equipment is scheduled for spring 2015, and the FSU is expected to be in operation in 2017.
The Wärtsilä scope of supply includes 45 deepwell process and cargo offloading pumps with electric motors and Variable Speed Drive (VSD) panels, three fire water pump skids, and two ballast pumps. The complete pumping packages have been designed to meet the customer s requirements regarding reliability and high system efficiency.
"Wärtsilä has extensive experience in this market area, particularly with our electrically driven deepwell pumps. As a result, we can offer complete pumping solutions that are competitive in terms of both CAPEX and OPEX, and which meet the demanding requirements of offshore operations. The fact that SHI, one of the major players in this industry, has chosen Wärtsilä speaks highly of our offering," says Timo Koponen, Vice President Wärtsilä Flow and Gas Solutions.
Statoil s Mariner field is the largest offshore development in UK waters, and the field is estimated to produce an average of 55,000 barrels of oil per day for some 30 years. The new FSU will have a capacity of 850,000 bbls.