Warning Messages Also to Cell Phone
Siemens Automation and Drives has added the functions "Wireless" and "AS-i Adapter" to its 70-millimeter signal columns of the Sirius product family.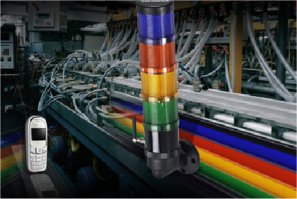 Siemens A&D
In the event of a malfunction in the plant or machine, the signal lights of the column are activated and the GSM wireless element transmits an SMS warning message to the user's cell phone, minimizing monitoring times and avoiding plant standstills. With the help of the AS-I adapter element, the user can switch to an external auxiliary voltage if required.
While previously the decision about the correct connection had to be made already at the configuring stage, you can now simply switch using a slide on the adapter element. The adapter element has inputs of the A/B type, allowing double the number of nodes to be connected. This increases flexibility and simplifies plant configuration.