Walchem Introduces Two New Metering Pumps.
This month the Walchem Corporation releases two new products: The LK mechanically actuated diaphragm pump. This motor-driven pump has a maximum capacity of 114 GPH (432 l/h) and a maximum pressure of 150 PSI (10 bar). The Digital EZB Series metering pumps are designed to work with a wide variety of chemicals and metering applications.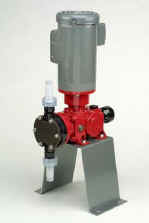 Walchem LK Series
LK series
They are designed to pump a wide variety of chemicals used in industrial and municipal water/wastewater treatment, agriculture, mining, paper, and industrial process applications. LK Series pumps feature a rugged, dual-cam drive design. The worm gear, tapered roller bearing, and oil bath lubrication provide outstanding durability and wear resistance.
Output adjustment is made with a lockable micrometer. An optional DC variable speed drive is available for external control by a 4-20mA input signal.
A variety of liquid ends are available for acids, bases, solvents, polymers and slurries. Available liquid end materials include PVC, PP, PVDF, and 316 SS.
The EZB series
These solenoid-driven diaphragm pumps have a maximum capacity of 3.2 GPH (12.1l/h) and a maximum pressure of 150 PSI (10 bar).Combining a 360:1 turndown ratio with high stroking speed and a fixed stroke length design makes the Digital EZB pumps the most economical solution to applications requiring low cost but high turndown capabilities.
The Digital EZB Series pumps at 360 strokes per minute. This high speed reduces chemical slug feeding found in slower metering pumps. The digital controller has three pushbuttons for easy speed adjustment.The LCD display indicates the exact pump speed at a glance. The digital controller not only makes changing the speed of the pump easy, but it also provides an IP65 solution for harsh environments. For installations with restricted access, the digital controller can also be mounted remote from the pump.