VSX Announces Positive Results for Order Intakes from Southeast Asia
VSX is announcing positive results for the sales activities on Southeast Asian markets 14 months after the contract conclusion with Singapore-based distributor Euroflo.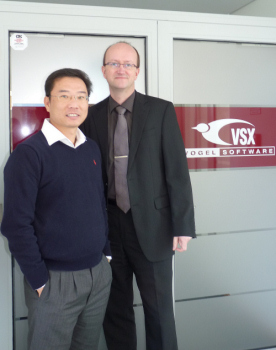 Looking forward to a new successful year: Max Chiew (left), General Manager of Euroflo, and Jens-Uwe Vogel, Managing Director of VSX. (Image: VSX - Vogel Software)
The sales of Spaix licenses in the distribution area Southeast Asia has started very well. The number of customers in the markets served by VSX distributor Euroflo could be significantly increased during the previous year. Moreover, this leads to a further enhancement of the recognition of Spaix pump selection software in general. The majority of clients initially decided for the compact software solution Spaix Quick&Easy in order to use the basic functionality at low investment costs. Often, these licenses are later upgraded to full-licensed pump sales software suites including features like configuration, spare parts and accessory selection.
Within the scope of the distributor agreement Euroflo is not only responsible for the sales of licenses but also for all services the customer requires for the implementation. Besides support activities accompanying the whole process also services like data input and performance curves digitalization are necessary in order to initially feed the program with all data and parameters important for the selection.
In the future, activities are more focusing on the support of consulting-intensive services which become more and more important especially for the operation of Spaix full versions. In order to meet the increased market requirements comprehensive consulting services are essential, for instance in terms of integration possibilities of Spaix with already implemented ERP systems or intensive trainings featuring the use of the data maintenance program.
Max Chiew, responsible for the Spaix sales at Euroflo, reflects: "After working with VSX, we realized the power of the software's abilities, matched with professional services and a knowledgeable team. We are confident that we have found our partner that will help us spear head our effort in the Asian market."
"We are glad having found in Max Chiew such an ambitious and reliable partner and we would like to take the opportunity today to thank him for his efforts during the last months. We are looking forward to the coming year and our further collaboration" summarizes Jens-Uwe Vogel, Managing Director of VSX – Vogel Software.
Max Chiew is CEO of Singapore-based EPI Pte Ltd. (Euroflo). Since March 2011 the company is working as distributor for Spaix products and serves the countries Singapore, China, Malaysia, Thailand, Vietnam, Indonesia as well as the Philippines.