Voith Trains the Staff of its Customer, Liberia Electricity Corporation
The technology group Voith is again stepping up its commitment in the African hydropower market. The company recently trained 20 employees from the Liberian electricity provider LEC (Liberia Electricity Corporation) for the Mount Coffee hydropower plant operation, which is scheduled to begin feeding power into the grid by early 2017 following an enhancing modernization. The comprehensive training will prepare employees, from technicians through to managers, to fulfil their individual responsibilities.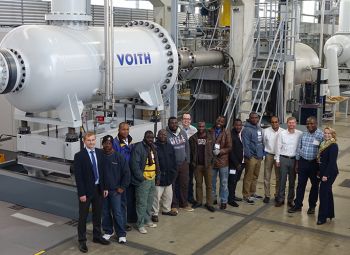 Part of the training: Gaining an insight into Voith's "Brunnenmühle", Research and Development Center for generator and turbine technology (Image: Voith GmbH)
Mid of October, half of the plant s staff was undergoing a two-week training program at Voith s headquarters in Heidenheim. The training program will equip customer s staff with in-depth knowledge related to the most important design, production and operating concepts for hydropower plants. This will include training relating to turbines, generators and other electromechanical components. The program will also cover automation, control and maintenance topics. Basic training has already been completed in Liberia and in Zambia – Voith is helping its customer, Liberia Electricity Corporation, to acquire the knowledge it needs for a long-term, efficient and safe operation of its plant.
"Voith is supporting the premise that technological construction and training is being done simultaneously in order to support both Africa s economic and social development, in addition to reducing worldwide emissions. Cooperation with the Liberia Electricity Corporation on the Mount Coffee hydropower plant is a great example of this model," says Heike Bergmann, Senior Vice President Sales Africa at Voith Hydro.
The future Liberian plant operators are receiving their training as part of Voith s global HydroSchool training program, which has been tailored to developing countries and its needs. The aim of the training is to educate local staff to obtain a qualification in their field of expertise. The training programs can be provided in English, French or Portuguese.
Voith is modernizing the Francis turbines within the Mount Coffee power plant and will deliver new generators, control technology and electromechanical power plant equipment. The renewal work on the hydropower plant will contribute to economic transformation and bring about sustainable progress to the people of this West African country. The Mount Coffee run-of-the-river hydropower plant was built in the 1960s. It is the second hydropower power plant in Liberia as well as the largest. During the Liberian civil war it was destroyed.