Voith Supports China to Develop Hydropower
On June 29, 2020, the first units of Wu Dongde hydropower plant started operating successfully as directed by Mr. Zhang Jianhua, Head of National Energy Administration.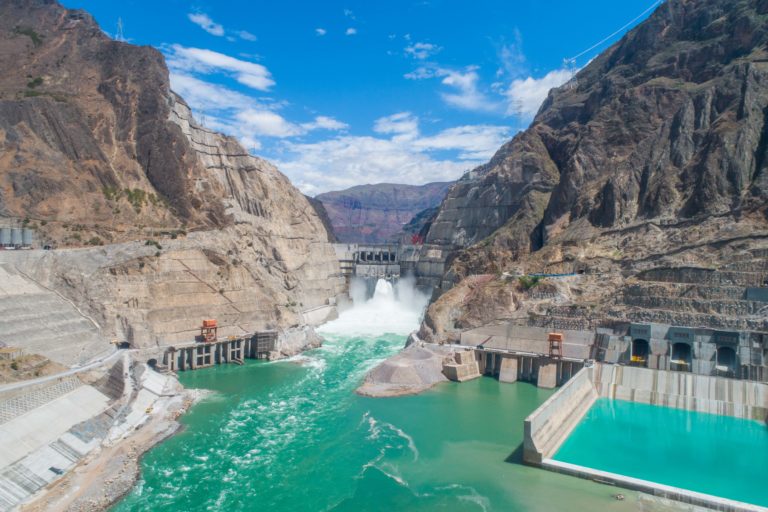 A bird's eye view of the Wudongde hydropower plant (Image source: Voith GmbH & Co. KGaA)
As a major partner of the Wu Dongde project, Voith designed and manufactured unit 6, one of the first units to be put into operation. All technical indicators fully meet the top-quality requirements of China Three Gorges Corporation (CTG), another important milestone in the history of hydropower in the world. This also lays a solid basis for the target of all 12 units on both left and right banks of Wu Dongde hydropower plant to be put into operation in 2021.
Wu Dongde hydropower plant ranks seventh in the world and fourth in China in terms of installed capacity. It will benefit society by preventing flood, providing inland navigation and promoting local social and economic development in addition to generating clean power. Wu Dongde hydropower plant is designed for 12 units with 850 MW capacity each.
Voith is responsible for the engineering, manufacturing and supervision of on-site installation and commissioning of the six units on the left bank of the plant. The power units provided by Voith Hydro are the largest ever commissioned in the world in terms of unit capacity. The project implementation phase included many new challenges. During the engineering stage, Voith engineers leveraged the company's global and Chinese experience and proposed final solutions after rounds of studies, analysis and demonstration. In the manufacturing process, Voith implemented full-process, all-round quality control in raw materials testing, purchases, assembly, welding, machinery processing and other process steps. While the equipment was being installed on site, Voith technical instructors were actively involved in every installation process. Thanks to all these efforts, the essential components of turbines and generators delivered by Voith are up to the benchmark product criteria demanded by CTG and helped materialize their vision of "High quality unit, Beautiful electromechanical."
President Xi Jinping, General Secretary of the Communist Party of China Central Committee and Chairman of the Central Military Commission, made an important communication while congratulating the successful operation of the Wu Dongde hydropower plant: "Wu Dongde Hydropower plant is a major national project that supports the 'West to East Power Transmission.' I hope the comrades will make continued efforts, adhere to the new development concepts, reach for new heights of science and technology, accomplish the remaining part of the project with high standard and high quality and make all efforts to shape Wu Dongde into an excellence project. Prioritizing the environment and remaining committed to green development and taking a scientific and orderly approach to the development of Jinsha River hydropower resources will ensure that the Jinsha River watershed is protected during development and will produce more benefits for the people."
"Putting the first units of Wu Dongde hydropower plant into successful operation marks a new and important milestone for Voith in the hydropower sector in China and even in the world," remarks Stephen Lewis, President and CEO of Voith Hydro APAC.
Voith has 150-year history in the hydropower industry and has cumulatively supplied 40,000 turbines to customers worldwide. In China, Voith provided equipment and service to China's first hydropower plant – Shi Longba plant in 1910. In the years since, Voith Hydro has supplied 157 units to 50 hydropower plants in China with a total installed capacity over 54,000 MW. CTG and Voith have a long-term and good cooperative relationship, and both parties jointly promote the sustainable development of hydropower in the world. Voith Hydro will continue to leverage its hydropower expertise and experience gathered over 150 years to help customers in China and globally to achieve successes in the future.