Voith Successfully Participated in the World Hydropower Congress 2019
oith attended the World Hydropower Congress in Paris May 14-16, 2019 – an event that brought together a global representation of the hydropower sector to advance sustainable hydropower and share solutions that support the Paris Climate Agreement and the Sustainable Development Goals. The congress was organized by the International Hydropower Association (IHA) in collaboration with more than 40 partner organizations, with support of the French Government.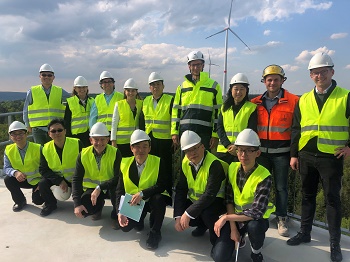 Study Tour at the Gaildorf wind-pumped storage hybrid power plant. (Image: Voith)
The sessions and workshops dealt with topics such as sustainability, climate resilience, innovative data solutions and hydropower working with other renewables. Voith contributed its expertise in the areas of pumped storage, digitalization, clean energy systems and capacity building.
Hydropower reduces dependence on fossil fuels and supports growth in solar and wind power due to its flexibility in dispatch and clean energy storage. Thereby, hydropower contributes significantly to the reduction of greenhouse gas (GHG) emissions and the mitigation of global warming. "The World Hydropower Congress is a valuable opportunity to meet hydropower experts and decision makers from around the world to exchange experiences and to discuss strategies for how to strengthen the sector's performance," says Uwe Wehnhardt, President & CEO Group Division Hydro.
Voith Study tour: Company's Headquarter, Gaildorf and Vianden
After the congress, Voith provided the World Hydropower Congress delegates the opportunity to visit the company's headquarters in Germany. Tour highlights included the Training Center, the Voith Hydro Engineering Center, the newly established OnPerformance.Lab for intelligent plant data analysis, and Voith's own Small Hydropower plant equipped with the StreamDiver.
The study tour continued at the Gaildorf wind-pumped storage hybrid power plant, the first plant of its kind worldwide. Combining wind mills and/or solar farms with a pumped storage plant ensures that the energy generated is immediately and reliably stored when it cannot be directly fed into the power grid. Such hybrid power approaches are becoming increasingly important given that the shift from centralized power systems remains an ongoing mega trend globally.
On the second day, the participants traveled to Luxembourg where they visited the Vianden pumped storage power plant, which supplies electricity directly into the German transmission grid. The Vianden pumped storage power plant is used as a flexible electricity storage system and to regulate the grid as part of the transition process to renewable energies.