Voith Receives Two Major Orders from Russia Totalling EUR 46 Million
Voith has received two major orders from Russia. Both the country's largest independent power producer - Irkutskenergo - and Russia's largest producer of electricity from hydro power - RusHydro - rely on technology from Voith.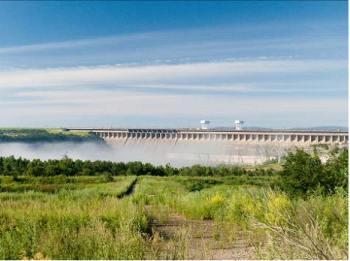 Bratsk hydro power station (Source: Irkutskenergo)
Modernization of Bratsk Hydro Power Station
Voith will manufacture six new Francis runners and related equipment in its Austrian workshop in St. Poelten for Bratsk hydro power station in Eastern Siberia. The first runner is to be installed on-site in 2013. The other five runners will then be delivered to Eastern Siberia at half-year intervals. The new runners will have a diameter of six meters and a rated capacity of 255 megawatt each.
Bratsk hydro power station is the largest plant at the Angara River in Siberia. With an installed capacity of 4,500 megawatts (MW) it supplies the city of Bratsk and its large aluminum foundry with electricity.
Bratsk power station was completed in 1961 after a construction time of seven years. At the time, it was the world's largest hydro-electric power station with a constant output of 30,000 gigawatt hours (GWh). Bratsk is still among Russia's largest and most important hydro power plants.
Back in 2001, Voith Hydro had already received an order for the modernization of the first two governors at Bratsk; further orders for the delivery and commissioning of new governors, governor adapters and oil processing equipment followed. By 2011, 18 units of the hydro power station were fitted with Voith technology.
Miatlinskaya hydro power station in the Northern Caucasus
In December 2011, Voith signed a contract with the long-time customer RusHydro for two Kaplan runners and turbine governors including related equipment for Miatlinskaya power station in Southern Russia.
The new runners will have a diameter of six meters and a rated capacity of 145 megawatts each.
Miatlinskaya power station at the Sulak River in Dagestan has been in operation since 1984 with a capacity of 220 megawatts. It is Dagestan's second largest power plant and makes an important contribution to eco-friendly energy generation and river control in this region of Russia.
Dr. Leopold Heninger, Chairman of Voith Hydro St. Poelten's Management Board: "We are able to look back on a long-standing involvement in Russia. Thanks to our technology we have managed to win the trust of the Russian customers. The new orders prove once again that Voith Hydro is among the leading suppliers for hydro power in Russia."