Voith Hydro Wins Order to Expand Kruonis Pumped Storage Plant in Lithuania
To make the country less dependent on energy imports, Lithuania is aiming to systematically expand its renewable energy sources – especially solar and wind power. To offset the volatility of these energy sources, the partially state-owned Ignitis Group company Ignitis Gamyba is investing around EUR 150 million in the expansion of the Kruonis pumped storage hydropower facility, where an additional, fifth unit will be installed.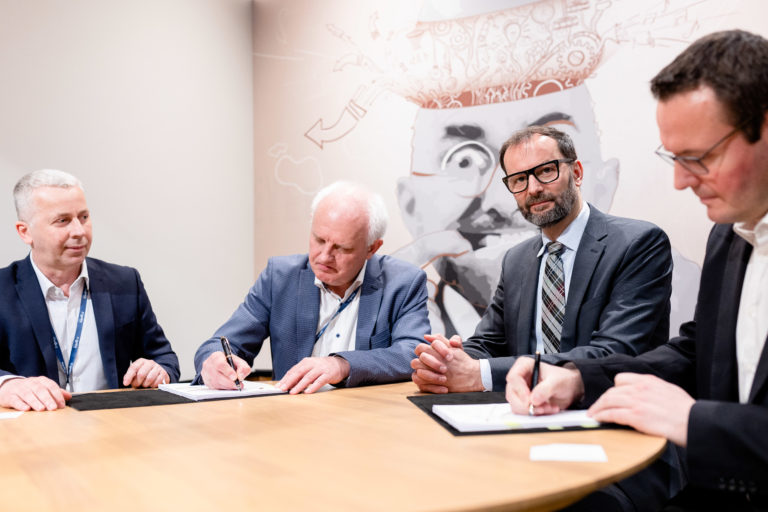 Partnership sealed: Ignitis Gamyba Head of Production Darius Kucinas and Rimgaudas Kalvaitis, CEO of Ignitis Gamyba are pictured with Reinhold Schneider, Managing Director of Voith Hydro in St. Pölten and regional sales representative Hubert Geissberger during contract signing in Lithuania (Image source: Voith GmbH & Co. KGaA)
Ignitis Gamyba is relying on the expertise of Voith Hydro for the installation of the highly flexible pump turbine unit with an output of 110 MW. Voith Hydro is setting new benchmarks, as the variable-speed unit is the most powerful of its kind worldwide. The use of a full-size converter allows for a very large control range as well as a fast response of the unit.
The Voith Hydro scope of supply includes pump turbine and motor-generator, the above-mentioned full-size converter, transformer, penstock, auxiliary equipment and the necessary civil works to integrate the unit optimally into the existing power plant. Voith Hydro will act as general contractor and is therefore responsible for design, manufacturing and transport, as well as assembly and commissioning of the unit on site. The facility is set to go into operation by the end of 2026.
"We are extremely pleased about the trust placed in us to act as general contractor for our customer on this project. All our partners are now ready to enter the implementation phase and thus provide the best possible support to Ignitis Gamyba in achieving its goals," says Hubert Geissberger, Voith Hydro sales representative for the region.