Voith awarded with turbine generator units and auxiliaries supply contract for the Pakistan Mohmand Dam hydropower plant
Four turbine generator units and online monitoring systems will be provided by Voith by 2026.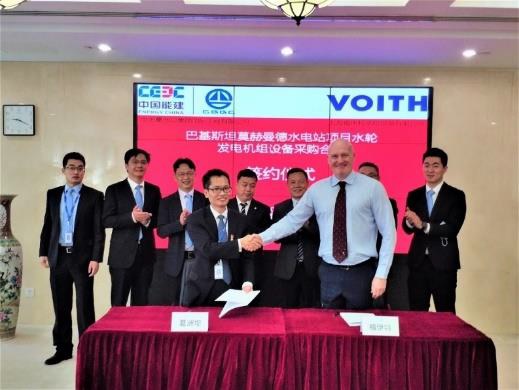 Wang Zhifei (front row left), Assistant to General Manager of CGGC International Limited and General Manager of Equipment Purchase Business Unit; Stephen Lewis (front row right), President and CEO of Voith HydroAsia Pacific. (Image source: Voith GmbH & Co. KGaA)
On September 30, 2020, China Gezhouba Group Corporation (CGGC) and Voith Hydro Shanghai Limited (VHS) entered into an equipment supply contract in Beijing, under which VHS will supply four 200 MW Francis turbine generator units and online monitoring systems for the Mohmand Dam hydropower plant in Pakistan.
A consortium of China Gezhouba Group Co., Ltd., a subsidiary of EN-ERGY CHINA, and DESCON Power Solutions of Pakistan won the con-struction contract for the Mohmand Dam hydropower project in Pakistan. According to the schedule, the first unit will be commissioned in 2025 and all units will be in commercial operation in 2026.
At the project's groundbreaking ceremony, Pakistan's Premier Imran Khan said: "Mohmand hydropower plant has been a dream project for years of both the Pakistan government and the people. The construction is of great significance. Once completed, the project will help mitigate flood disasters, enhance food safety, alleviate power shortage and further drive Pakistan's social and economic development."
About Pakistan Mohmand Dam hydropower project
Mohmand Dam hydropower plant is situated in the Khyber Pakhtunkhwa Province of Pakistan and is designed for a total capacity of 800 MW. It is the first flagship project funded by the new administration of Pakistan. The project will offer approximately 6,000 jobs for Pakistan at the peak period of construction and generate an annual average of 2,862 GWh of clean power at full operation. In addition, the project will offer 140 million cubic meters of drinking water per year to local citizens. Its annual revenue will be approximately 320 million euros.