Vogelsang to Present Shredding and Pump Technology
Vogelsang will be presenting its RedUnit, a compact combination of macerators and pumps for food disposal. The RedUnit combines the advantages of Vogelsang's proven twin-shaft macerator XRipper, its wet macerator RotaCut and its CC-series progressive cavity pump. It allows large quantities of coarse or fine solid matter to be shredded into media that can be easily processed further and can be adapted precisely to meet different customer requirements.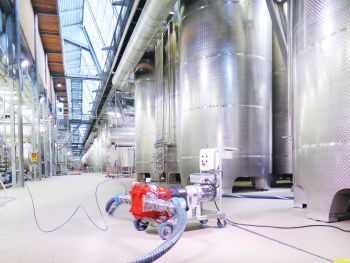 Vogelsang pumps are suitable for all of a winemaker s processes (Image:Vogelsang GmbH & Co. KG)
"The RedUnit is a shredding solution that is unprecedented on the market and has stood the test at many companies in the food sector," says Harald Vogelsang, Managing Director of Vogelsang GmbH & Co. KG. "We have now added an intelligent control system, allowing users to integrate it directly into their plant and set all technical characteristics of the individual machines via an intuitive touchscreen."
RedUnit – all-rounder in the industry
The RedUnit represents a flexible complete package for food disposal with the modules of the XRipper XRL for coarse shredding, the RotaCut RCX for defined shredding of solid matter and the progressive cavity pump for forwarding the resulting homogeneous medium. The machine effortlessly shreds meat waste and fish heads, grinds and recycles hides and bones, and processes production waste for further treatment or disposal. Thanks to the modular design, customers can choose from a wide range of pumping and shredding stages according to their specific needs. What's more, the system is easy to operate, making it an overall user-friendly industrial shredder.
Modules for various pumping and shredding stages
The XRipper XRL is a shredding solution for applications where a large amount of solid matter has to be processed. It shreds things like abattoir waste, plastic waste or organic waste from supermarkets and can forward the medium without any problems.
The RotaCut RCX reliably shreds fibrous and foreign matter in a defined manner and converts it into liquid media. In doing so, it protects downstream system components from being damaged by foreign matter and prevents blockages and clogging of pumps, valves and pipes.
The CC-series progressive cavity pump is another optional module available with the RedUnit. It pumps the output medium further – even foreign matter with a diameter of up to 88 mm does not pose a problem.
Pump technology for the wine industry
In addition to the RedUnit, Vogelsang will also be present rotary lobe pumps for the wine industry. The pumps convey grapes and wine in a gentle way, thereby preventing foam from forming. They can be used for a vast array of tasks in the production of wine and sparkling wine, whether it be pumping out, draining off the clear product, cooling, blending or dispensing. Furthermore, they can be customized to suit any size of facility. For smaller wineries, mobile solutions are available that can be used anywhere thanks to special hoses, and for larger systems there are pumps suitable for stationary installation.