Vogelsang Presents Combination of Grinding and Pump Technology for the Meat Processing Industry
The RedUnit is a combination of grinders and pumps which is used for the defined shredding of meat waste and remains. Large quantities of difficult and demanding substances such as meat, bones, skin and offal are easily shredded by the RedUnit. The system is particularly compact and is adapted to the customer s individual requirements due to its modular design.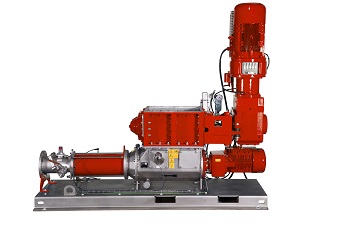 RedUnit: compact and sturdy unit consisting of grinders and pumps (Image: Vogelsang)
"A large part of the meat waste is used for the production of animal meal and gelatine or fed into biogas plants. The particle size of the medium is decisive for this process: the smaller the better. Customers can use the RedUnit to shred their meat waste precisely in a size they define themselves", explains Vogelsang Managing Director Harald Vogelsang.
High flexibility due to modular design
A basic element of the RedUnit combinations is the twin-shaft grinder XRipper XRL. The rotors of the XRipper are manufactured from a block of special steel and are therefore particularly robust. Due to the monolithic design of the rotors, the XRipper can withstand high loads and shreds difficult and demanding substances without difficulty. For another shredding step there can be additionally installed a RotaCut macerator in the RedUnit. The Vogelsang progressive cavity pump of the CC series is used to pump the medium after the shredding process or to pump media of higher viscosity. The XRipper is part of all RedUnit versions, whereas the other modules are optionally integrated and configured in the system according to the customer s requirements.
Energy-efficient and easy to maintain
The RedUnit is a complete system, which works without additional pumps or screw conveyors between the various shredding steps. This reduces the power consumption compared to conventional systems. The water consumption is also minimized, since the RedUnit does not need any fresh water for the shredding process. The "QuickService"-concept from Vogelsang ensures quick and easy maintenance of the system. All service and maintenance work can be performed quickly on site whenever necessary.
On the way to Industry 4.0
Vogelsang has equipped the RedUnit with an intelligent control unit. This allows the system to be easily integrated in any system without great effort according to the plug-and-play principle. This significantly simplifies the on-site start-up. As soon as the user connects the RedUnit to the power supply, the modules automatically communicate via the platform-independent standard protocol OPC UA. All components and their technical values can be viewed and managed on a touch screen.