Vogelsang Expands Management Board
David Guidez (44) has been a member of the management board of Vogelsang since 25 February 2019. Together with Hugo and Harald Vogelsang, he manages the business of the company and is responsible in particular for the areas of production, quality management, order processing and service.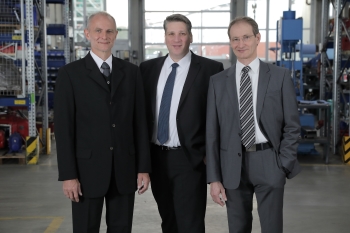 The new Vogelsang management board: Hugo Vogelsang (left), David Guidez, Harald Vogelsang (right). (Image: Vogelsang)
The reason for the expansion of the management board is the strong growth of the company and the successful course of internationalization in recent years. Vogelsang now serves numerous market segments worldwide with an increasing variety of products. As a result, the family-run mechanical engineering company recently invested more and more in global production in the form of new assembly lines and the expansion of subsidiaries in Germany and abroad.
"Our growth in recent years presents us with new strategic and organizational challenges," explains Vogelsang Managing Director Harald Vogelsang. "With David Guidez we have gained an expert who has already held responsible positions in several German mechanical engineering companies. David has been working in our company since August 2018 and will expand international production in the future. Another focus will be on optimizing our work processes."
David Guidez has a clear vision for Vogelsang: "With the strong involvement of employees, we will make production processes leaner and more agile and also advance digitization within the company. In addition, it is my goal to strengthen the confidence of our customers in Vogelsang worldwide and to establish ourselves in foreign markets as a reliable manufacturer, supplier and partner."
David Guidez was born in France and has been working and living in Germany for over 20 years. During his professional career up to now, he has held various positions in production management, operational excellence and personnel management in medium-sized companies. He spent the majority of his professional life in production management, most recently on the management board of the subsidiary of a European logistics company.