Vitens and Grundfos Signed Strategic Partnership Agreement
On 23 May 2012, Grundfos and Vitens, the largest drinking water supplier in the Netherlands, signed a new strategic partnership agreement committing both companies to investigate energy saving potential in well fields and pumping stations.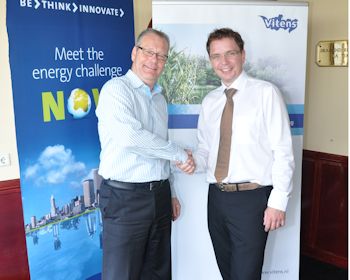 Doeke Schippers of Vitens and Rogier Verwer,Segment Manager Water Utility at Grundfos shake hands after signing the agreement (Image: Grundfos)
Vitens aims to reduce their energy consumption by 20% by 2020, and the agreement to apply the Grundfos Well Field Energy Audit (WFEA) to 110 well fields and the Grundfos Pump Audit to 90 pumping stations is the company s next step towards this goal. The measurements will be done by service staff from Grundfos in the Netherlands and technicians from Vitens.
"We have already seen very good results using the Well Field Energy Audits and Pump Audits on the Vitens sites", says Marcel van Veen, Key Account Manager, Grundfos the Netherlands. "Now we are deepening our commitment to energy optimisation at Vitens with our energy audits and optimised pumping solutions, helping Vitens reach their energy reduction targets".
Grundfos in the Netherlands and Vitens have a long-standing cooperation with energy optimisation and have worked extensively with Pump Audits and Well Field Energy Audits. Vitens is the largest drinking water supplier in The Netherlands, extracting and distributing 350 million m3 of water per year to 5.4 million customers along 47,500 km of distribution network.
"Working together with a major global pump manufacturer like Grundfos complements perfectly our strengths as a drinking water supplier," says Kees Hagen, Teammanager E&I PA, Vitens. "We are embarking on a long-term program of measurement and analysis with the purpose of reducing energy consumption for well field and distribution pumps; this is a great opportunity for us to get the knowledge we need to meet the sustainability goals for substantially reduced energy use."
In 2011, Vitens received the "The Best Act NOW Company" award for their commitment to energy optimisation. Act NOW is a partnership between private companies, governmental organisations and NGO s aiming to enhance the knowledge of simple and environmentally friendly products that not only reduce the CO2-emission but also ensure profit due to lower energy consumption. Grundfos is one of the initiators of the Act NOW partnership.