Viking Johnson EasiCollar Has an Intergral Role in Birminghams Water Supply
Viking Johnson's EasiCollar fittings have been used to repair and strengthen weakened joints on a cast iron pipe which runs from Elan Valley to Frankly Water Treatment Works, supplying Birmingham and surrounding areas with drinking water. Approximately 1,300,000 people are supplied by Frankly Water Treatment Works.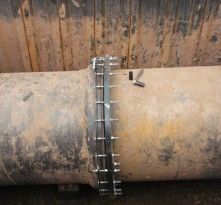 Viking Johnson's EasiCollar fittings have been used to repair weakened joints on a cast iron pipe (Image: Viking Johnson)
EasiCollar fittings were chosen for their guaranteed reliable and permanent seal, to leaking spigot + sealed pipes, which can be installed under pressure which therefore avoids costly mains shutdowns and disruption to the customer.
The Frankley Water Treatment Works treats water from Elan Valley in Wales, which arrives at Frankley Reservoir by gravity feed along the Elan aqueduct with a gradient of 1 in 2,300. The water takes roughly one and a half days to reach Birmingham from Elan Valley and supplies the local people. It's a long journey so reliable pipework and fittings are essential.
Enterprise and their sub-contractor CPC Civils were tasked with replacing a section of the 42" cast iron main. The EasiCollar fittings JPG 504 and JPG 520 were supplied by Frazer Wednesbury and chosen for the repair as they enabled two particularly difficult joints to be repaired without disruption or loss of integrity of the pipework.
In addition to the EasiCollar fittings, Viking Johnson supplied further couplings and step couplings in order to connect the new twin 1200mm ductile iron pipes to the existing cast iron pipework. Viking Johnson delivered quickly and on time to meet Enterprise's short deadline.
Enterprise site manager Morgan Courtney stated that "Viking Johnson provides an excellent and efficient service and the EasiCollar range was ideal for repairing the cast iron main"