Vesconite Hilube Bearings Continue to Perform in Condensate Pump
South African-manufactured Vesconite Hilube bearings, which had been installed in a condensate pump at a thermal power station in Texas, continue to operate well after four years as part of a pump assembly that is expected to have a life expectancy of seven years, says Vesconite pump expert Charlie Simpson.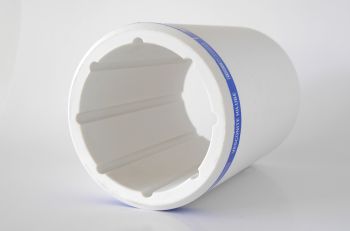 A Vesconite Hilube bearing produced for the pump industry (Image: Vesconite)
Bearings with a 4.5 inch outside diameter, 3.5 inch inside diameter and a 3.5 inch length had been supplied in 2012 and had replaced the original carbon material, he says, noting that stainless steel was specified as the shaft material.
The supplied line shaft and pump bowl bearings are used in the vertical spindle pump that pumps water at between 30˚C and 60˚C under pure water conditions.
Condensate pumps make up an important part of any coal-powered power station since they harvest the steam and recirculate the condensate water to the boiler system to reduce water usage, affirms Simpson.
The energy company that owns the thermal power station has interests in other coal-fired power stations, as well as solar, wind and nuclear generating facilities. It has confirmed that it is content with the performance of the bearings that are made of the thermoplastic, Vesconite Hilube, which is used in high-precision, long-life, reliable products that require no lubrication.
The South African manufacturer of the bearings has been producing Vesconite (and later Vesconite Hilube and Vesconite Superlube) since 1968, when the founder of the company responded to a need from the South African gold-mining sector, which required a bearing material for use in ultra-deep, harsh and dirty conditions, by developing the polymer Vesconite. The material has since been used in over 100 countries in the agriculture, railways, mining, pumps, heavy transport, hydro, wind turbine, earthmoving, tidal and marine industries