Vertical, Volute-Casing Centrifugal Pump for Oil Tanks
With their "ALLUB®-NSSV" product line, Allweiler AG has introduced a new pump for delivery of lube and sealing oil. Already proven over many years of successful use, "NSSV" is actually the latest development in this pump unit designed for vertical installation in (oil) tanks.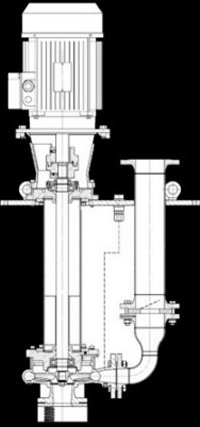 ALLUB®-NSSV
Thanks to standardized sizes and versions, the product is available for rapid delivery. Anti-vortex ribs are a new feature for which patent protection is pending. This special design reliably prevents aeration of lubrication oil. This single-stage, single-flow pump was specially designed to supply turbines, large compressors, and heavy gear sets with oil, needed for lubrication and sealing purposes. It is also suitable for applications that require pumping of lubricating, non-corrosive fluids that contain no abrasive components.
The pump does not require maintenance on the sealing elements because it does not need a shaft seal. The pump-side is lubricated by the pumped medium and the drive side can be lubricated with either regreasable lubrication or oil lubrication. High tolerance groove ball bearings and pressure-safe volute casing parts are all constructed of the highest-grade castings from Allweiler's own foundry and ensure high durability and operational safety. In addition, the mounted suction strainer prevents coarse dirt particles from getting into the pump.
Adjustment of the coupling is not necessary. The rotationally-stiff and bending-proof drive lantern with precision centerings ensure that the pump shaft end and motor shaft end always align exactly. The pump is attached to the lube oil tank over a buckling resistant mounting plate. A negative pressure condition in the tank causes no problems because the tapped through-holes are sealed. The customer can also choose to have the pump equipped with a check valve to prevent return flow during standby. This feature is offered in combination with a pressure measurement connection which allows controlling the pressure build-up at start of the pump.
The maximum capacity of the "NSSV" is 550 m³/h with a maximum pump head of 150 meters and a maximum pressure of 16 bar. The immersion depth, measured from the underside of the mounting plate to the lower edge of the suction strainer, can be adjusted in 100 mm increments from 700 mm to 1500 mm. The maximum liquid temperature is 120 °C. The pump is designed to be installed vertically in the (oil) tank.