Versatile Pump for Refinery And Petro-Chem Duty
A specification which meets the latest API 610 requirements, a fully integrated design of motor, baseplate and accessories, along with outstanding hydraulic performance, are among the key features of the CombiPro range of process pumps, available from JP Pumps, a division of the SPX Process Equipment Operation.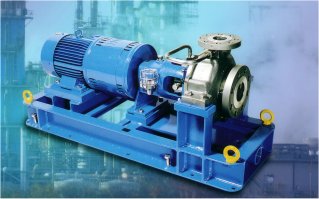 JP Pumps.
The Combipro centrifugal pump is ideal for fluids transfer in refineries and petro-chemical applications and is designed to provide trouble-free operation under most process conditions. The range provides models which operate at system pressures of up to 35 bar, capacities up to 350 m3/hour, heads up to 160 metres and operating temperatures ranging from -30°C up to +350°C.
Part of the Johnson Pump CombiSystem, the Combipro is a modular concept of single stage end-top centrifugal pump family which all share the same basic hydraulic design and offer optimum interchangeability between parts and sub-assemblies. The seal chamber is designed to fit all types of seals, especially API 682 cartridge seals. The pump is mounted on a sturdy welded steel baseplate with reinforced pedestals and bracket support, conforming to API 610. This reliable, rigid construction extends the duty-life of bearings and seal enabling reliable operation even under the most severe process conditions. CombiPro pumps are supplied with a choice of 3 different types of impeller, closed, semi-open and half-open.
The closed impeller option with back vanes limits the pressure on the shaft seal and allows a good circulation of flushing liquid and so minimises the risk of pollution around the shaft sealing environment.
The semi-open impeller option is fully interchangeable with a closed impeller of the same size, while the larger passage between the vanes allows the pumping of liquids containing particulates. The half-open option consists of a shaped front wear plate mounted in the pump casing and a front plate-less impeller running against the wear plate with narrow clearance making the pump easy to clean if the pumped liquid adheres to the internal of the impeller.
Other features and benefits of CombiPro pumps include; a constant level oiler with cage protected sight glass ensuring optimal lubrication, a bulls eye sight glass with oil level indication allowing permanent visual control of oil level condition, a breather with micro-filter equalizes pressure differences inside the bearing bracket, yet prevents water from entering into the bearing bracket. Finally, provision is made to mount an optional cooling chamber to the bearing bracket to maintain an optimum service temperature of the lubricating oil.