Versatile Liquid Pumps Offer High Durability, Low Noise for Fluid Power Applications
A new series of small state-of-the-art liquid pumps providing high capacity, high endurance and low noise for OEM and retrofit use in fluid power systems has been introduced by Haskel International. Available with 1" or 2" stroke, the economical HLP3 pumps are designed for fluid power applications requiring economy and durability.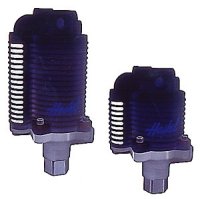 (Economical air-driven pumps, Source: Haskel)
Parts and assembly are engineered for continuous duty, allowing the pumps to be operated up to 24 hours a day, seven days a week. They handle pressures up to 25,000 psi (1,725 bar), among the highest for pumps in their size range, and outputs up to 1.5 gpm (5.7 l/m).
Wetted sections are available in 316 stainless steel or aluminum for compatibility with a wide range of media and environments; both have Teflon® seals. An engineered non-metallic air section lowers overall weight and makes the pumps among the quietest air-driven models on the market by eliminating mechanical knock and reducing air drive exhaust.
Six plunger ratios cover pressures from 2,500 to 25,000 psi (150 to 1,725 bar), allowing distributors to stock the full range conveniently. The new pumps are value engineered with 44% fewer parts than the company's comparable M series. They are sold with an 18-month factory warranty.
Since they use the same connections, HLP3 pumps can directly replace M series pumps, offering higher pressure ranges, reduced noise and greater durability. Pumps with 2" stroke can be field substituted for older 1" models if clearance is available.
Haskel now offers the most complete range of air-driven liquid pumps, whether measured by pressure, flow or output capability; or by variety of liquids with which they are compatible, the company reports.
Haskel International manufactures electrical and air-driven high pressure pumps, hydraulic and air-driven high pressure gas boosters, air pressure amplifiers and related equipment. It distributes and services its products worldwide through company offices, subsidiaries and distributors.