Versatile and Efficient
The Wilo Stratos-Z is a true all-rounder – it is used in many different applications, and its ideal workplace is in drinking-water circulation systems, hot-water heating systems and industrial circulation systems.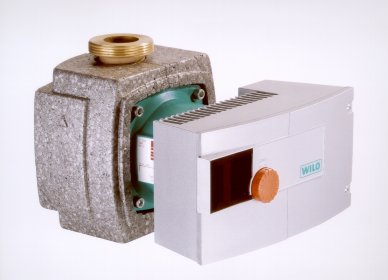 Just like all other Stratos pumps, it consumes very little electric power (photo: Wilo).
Wilo has now extended this series with four new models. The Stratos-Z pumps offer a unique feature: just like the Stratos and Stratos-D series, they can also be used as regulated wet-running pumps in refrigeration and air-conditioning systems.
Another feature which the Stratos-Z pumps share with all other pumps in the Stratos family is that they permit drastic reductions in electricity consumption, since their ECM technology ensures extremely efficient operation. And this is clearly shown by comparison with unregulated pumps: in building and plant installations, these high-efficiency pumps use up to 80 per cent less electricity. Today, with the continually increasing energy prices, replacement of a pump will certainly pay off very quickly.
The highly efficient pump is not only suitable for drinking water and foodstuffs water in accordance with the German drinking-water regulations (TrinkwV 2001) at water hardness values of up to 20°d and a maximum temperature of + 80 °C also in heating and air-conditioning applications with temperatures of -10 to +110 °C. Furthermore, in drinking-water circulation systems with thermostatically controlled line shut-off fittings, the Stratos-Z automatically adapts the pump output to the varying load conditions, thus permitting further savings. Due to its corrosion-resistant, red-brass pump housing, the Stratos-Z is also ideal for systems where the water may contain oxygen.
The pump is also very easy to install: depending on the installation situation, the regulation module can be mounted horizontally or vertically. The proven "red-button technology" makes setting of the operating parameters quick and easy. The display clearly shows all important data. The Stratos-Z is delivered complete with an insulating shell which reduces heat losses in applications where hot water is pumped.