Variable speed drive to mount on existing pumps
VOGEL PUMPEN introduces the easy-to-use HYDROVAR system for the retrofit market to mount on existing pumps. Compared with the installation costs for this intelligent and user friendly variable speed drive there will be a payback time of less than one year (depending on the energy costs).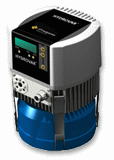 Hydrovar (Source VOGEL PUMPEN)
Main advantages:
Energy savings
The adjustment of the pump speed and performance to the actual demand can lead into energy savings of up to 70 %.
Less wear during operation
Less mechanical stress because of lower speed of the pumps during operation and no additional load in the starting moment, because of the soft start.
No water hammer
The steady operation of the pumps also in partial loads prevents water hammer, which normally arise in the start/stop operation of full speed pumps.
Lower noise
Less noise of the pump because of running at lower speeds during operation. Less noise in the pipeline and valves because of adjustment of the pump performance to the actual demand and control along the system curve.
Lower starting current
High current peaks are prevented by adjusting the start ramp times as you can find in a soft starter.
Multi pump control possible
Because of the integrated multi pump controller, all features for lead-lag pump operation and sequencing are possible over the RS 485 interface without any additional devices.