Valve terminals open up new possibilities
The new valve terminals from Bürkert now enable tailor-made solutions for a wide variety of water applications, from municipal water suppliers to industrial process water treatment. They are robust, easy to integrate and very user-friendly.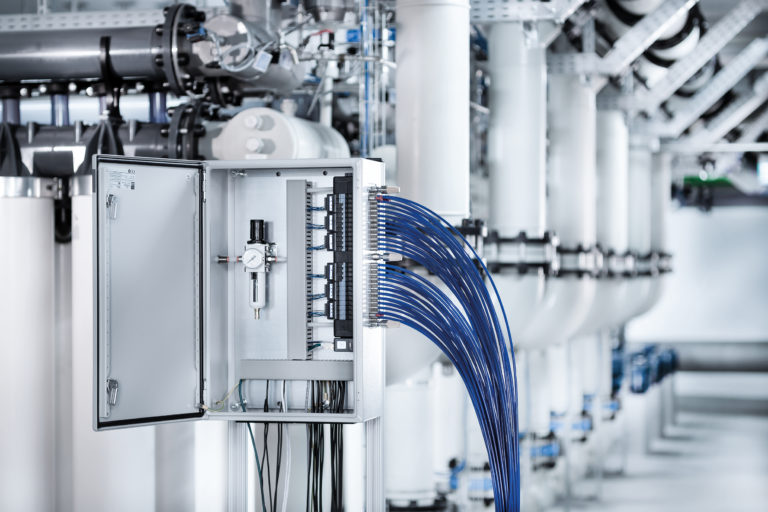 The installation space is often tight in water applications. When developing the type 8652 valve terminal, particular emphasis was placed on compact dimensions. (Image source: Bürkert Fluid Control Systems)
Bürkert offers valve terminals for water applications that can be easily and quickly integrated into the respective automation environment via a gateway. Communication is then carried out using common industrial Ethernet or Profibus protocols. During operation, the valve terminals offer users adjustable monitoring and diagnostic functions, which improve system availability and process reliability and enable preventive maintenance. An integrated display shows detailed information on site, such as the current switching status of the pilot valve and process valve, issues a message when preset pressure limit values are exceeded or shows errors such as a broken cable in plain text.
Central control cabinet assembly or robust field module
When developing the type 8652 valve terminal (Fig. 1), particular emphasis was placed on compact dimensions. It is significantly smaller than its predecessor and can therefore also be placed in compact control cabinets, which leads to cost savings. The control cabinets can be installed close to the process valves. The standard AirLINE-Quick adapter plate simplifies assembly and significantly reduces the use of pneumatic hoses and cables, which minimizes potential leakage points. The plate is integrated in the control cabinet floor or in the control cabinet wall, bulkhead screw connections on the control cabinet are then no longer necessary. Operation and maintenance are practical. There is a manual emergency operation and the individual valves can be exchanged during operation.
For installation directly in the field without a control cabinet, the valve terminal type 8653 AirLINE Field (Fig. 2) is a robust IP65 pneumatic block with which valve groups can be controlled decentrally. This also saves wiring and tubing work. Feedback signals can, for example, be collected in the field and routed via a cable. The field module can be combined with the 8652 valve terminal in the control cabinet via plug and play. In this way, remote fittings can be integrated into the central pneumatic distribution system at low cost and easily put into operation. Thanks to the Namur LED status display, the user always has the function in view, even from a distance.
Easy integration into the Siemens world
In the context of Industry 4.0, valve terminals that are used in water applications are increasingly becoming electropneumatic automation systems. The type 8647 (Fig. 3), which is fully integrated into the distributed I / O system SIMATIC ET 200SP HA from Siemens, sets clear standards. This enables fast and seamless integration both during commissioning and later when monitoring ongoing operations. For example, the number of switching cycles carried out is forwarded to the control system. In this way, preventive and wear-oriented maintenance of the system can be initiated and downtimes can be minimized. In addition, a redundant bus protocol ensures additional security.
& nbsp;