USFilter Introduces "The Regain Program"
Many industries and municipalities cannot afford to maintain or replace old dewatering equipment that no longer operates efficiently. USFilter Dewatering Systems now offers facilities a solution to this costly repair/replace cycle: The Regain Program.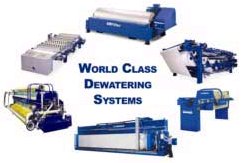 USFilter Dewatering Systems (Photo: USFilter)
The Regain Program focuses on rebuilding, refurbishing or optimizing filter presses, belt presses and other dewatering equipment to regain efficiency, throughput and productivity and to lower costs. Client requests range from simply fitting a filter press with new, improved filter cloths to the more complex overhaul of all mechanical and control systems. Such improvements can result in shorter cycle times, dryer cake solids and better effluent quality. This, in turn, leads to lower disposal, production or maintenance costs, fewer parts, less labor and decreased treatment chemical consumption.
According to John Trautmann, vice president of technical services at USFilter Dewatering Systems, the Regain Program can extend equipment life, improve its operation and reduce future maintenance costs. "In short, this USFilter program can save your facility time and money," he says. "How can you not afford to check into what 'Regain' can do for you and your bottom line?"
The Regain Program works like this. First, an USFilter Service Engineer inspects the equipment onsite and assesses what needs to be done. This is followed by a detailed report on the equipment performance, including recommendations for repair and upgrades, as well as a proposal that outlines the parts and service required for the improvements. Finally, USFilter's trained staff services the equipment either onsite or at Dewatering Systems' facility in Holland, Mich. To ensure customer satisfaction, USFilter guarantees all work performed on qualified equipment and provides periodic follow-up on the equipment's operation.
The Regain Program allows dewatering facilities to get the most from an existing dewatering system while abiding by a tight budget. USFilter Dewatering Systems is not only capable of rebuilding, refurbishing or optimizing its own brands (USFilter, JWI, CPC, Passavant, Envirex and Perrin), but it can also do the same for a number of other leading brands.
For more information about the Regain Program, please visit the Company's website.