US Demand for Oil and Gas Infrastructure Equipment to Exceed $12 Billion in 2016
Demand for oil and gas infrastructure equipment is forecast to rise 6.3 percent annually through 2016 to $12.1 billion. Advances will benefit from the development of shale plays, especially in areas that have not until recently been major energy producers.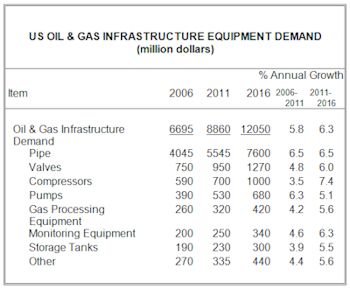 © 2012 by The Freedonia Group, Inc.
These areas will require additional infrastructure in order to economically transport oil and natural gas from the well site. For example, pipeline capacity at the Bakken Shale in North Dakota and Montana is expected to more than double by 2016. These and other trends are presented in Oil & Gas Infrastructure, a new study from The Freedonia Group, Inc., a Cleveland-based industry market research firm.
Oil and gas infrastructure equipment demand will also benefit from increased upstream drilling activity. Much of this drilling activity is happening in previously dormant or nontraditional areas, which has created a demand for oil and gas infrastructure. Low natural gas prices have caused many producers to move drill rigs from dry gas areas into the more lucrative liquid plays. Strong liquid play activity is happening in the Eagle Ford Shale in Texas, the Bakken Shale in North Dakota, and the Niobrara Shale in Northern Colorado and Wyoming. However, natural gas prices, while currently low, are expected to recover by 2016. Expectations of this recovery are boosting demand for natural gas pipelines in areas such as the Marcellus Shale.
In addition to shale plays, significant pipeline opportunities will result from expansion of interstate pipelines. The most notable project is the Keystone XL pipeline, which would deliver crude oil from the Canadian tar sands to the southern US. The final portion of the project has yet to be approved by the US government, although such action is expected within the forecast period.
Demand for pipe will benefit from construction of new transmission lines and the need for gathering systems at new drilling sites. Plastic pipe will post faster gains than steel due to widespread use in gathering applications. However, steel pipe will remain the dominant material because of its high pressure resistance. Demand for equipment such as valves, pumps, and compressors will benefit from new and expanding pipelines, since this equipment is necessary to manage oil and gas flow through the system.