US Demand for HVAC Equipment to Reach $20.4 Billion in 2019
Demand for HVAC equipment in the US is forecast to increase 6.8% annually through 2019 to $20.4 billion, recording gains over twice the rate of the 2009-2014 period.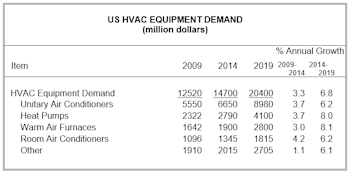 U.S. Havac Equipment demand (Image: Freedonia Group, Inc.)
In large part, advances will be the result of robust gains in building construction spending, especially growth in improvement and repair expenditures as replacement demand contributes approximately three-quarters of total sales in a given year. Advances will also be propelled by rising demand for increasingly efficient HVAC systems and other products that have greater technological sophistication, as these are typically higher value systems. However, analyst Kyle Peters points out that, "Federal tax incentives which were targeted at high-efficiency systems installed in the residential market expired at the end of 2014. A number of homeowners took advantage of those incentives and replaced their HVAC systems ahead of schedule, so the pool of units needing to be replaced will be smaller, reducing sales in the short term." These and other trends are presented in HVAC Equipment, a new study from The Freedonia Group, Inc., a Cleveland-based industry market research firm.
Unitary air conditioners will continue to comprise the largest share of total HVAC equipment demand, accounting for 44% of sales in 2019. Advances will benefit from the projected rebound in nonresidential construction spending and the continued improvement in residential construction activity. In addition, the improved economic environment will enable some homeowners to install central air conditioning systems. However, heat pumps and warm air furnaces will both post faster gains. Demand for heat pumps, which have both heating and cooling capabilities, will be supported by rising sales in markets where efficiency gains are of primary importance, particularly as more high-value geothermal types are installed.
The nonresidential market accounts for the larger share of HVAC equipment demand in value terms, due to the larger size of HVAC systems used in these buildings and their consequently higher cost. However, growth in the residential market will significantly outpace that in the nonresidential market. The number of new housing units will increase substantially, providing ample opportunities for new residential HVAC equipment installations. However, in both residential and nonresidential markets, replacement purchases will continue to account for the bulk of sales.