Uraca Introduces New Sewer Cleaning Pump
The new KD718 is the fur­ther de­vel­op­ment of the KD716 for sew­er clean­ing ap­pli­ca­tions. The new pow­er end with ad­di­tio­n­al pow­er end seal­ing by de­fault char­ac­ter­izes this pump type.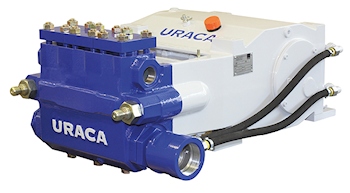 KD718 Sewer cleaning pump (Image: Uraca)
This means greater avai­l­a­bil­i­ty and longer op­er­a­tion time for rough day-to-day op­er­a­tion. The pump com­bines the advan­tages of the thou­sand fold approved KD716 with the eco­log­i­cal­ly ben­efi­cial pow­er end seal­ing with equal fitt­ing di­men­sions.
Due to many years of ex­pe­ri­ence in the de­vel­op­ment and man­u­fac­ture of High Pres­sure Plunger Pumps as well as up-to-date tech­nol­o­gy and high pro­duc­tion qual­i­ty, Uraca GmbH at Bad Urach grew to a lead­ing com­pany in this mar­ket. A fur­ther suc­cess is the de­vel­op­ment of the Sew­er Clean­ing Pump KD716-G. The com­pact de­sign is an ad­van­tage for the in­s­tal­la­tion in sew­er clean­ing vehicles, par­tic­u­larlyas Uraca de­signed the shaft end as deep as pos­si­ble for an easy mount­ing on any chas­sis.
To im­prove the ef­fec­tive load of the vehi­cle, Uraca kept the weight of the pump rather low. Thus the KD718 is a real "ul­tra-light". A wide pow­er range up to 110 kW ( 150 HP) al­lows an optimum uti­l­iza­tion.
Uraca pumps with stur­dy pow­er ends, all me­t­al-valves, and ex­treme­ly wear-re­sis­tant plungers of­fer high op­er­a­tio­n­al safe­ty and re­li­a­bil­i­ty.
Spe­cial de­signs as well as a wide range of ac­ces­sories such as valves, spray guns, hos­es, lances and spe­cial noz­zles.
The Uraca pro­duc­tion pro­gram does not on­ly in­clude high pres­sure plunger pumps: Com­plete high pres­sure clean­ing sys­tems to solve spe­cif­ic clean­ing problems are avai­l­able, com­pris­ing low-noise pump units, clean­ing de­vices and cabins for vari­ous ap­pli­ca­tion.