Uponor S-Press Plus: Press Fittings for Composite Pipes
The S-Press Plus fitting system from Uponor sets new standards for drinking water and heating installation. S-Press Plus fittings, optimized in every detail, meet the central requirements of planners and installers and make planning and installation easier and more reliable at the same time.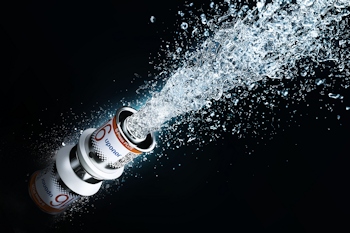 With its robust construction and a wide range of safety functions, the S-Press Plus from Uponor guarantees a simple and reliable pressing process even under difficult conditions. (Image: Uponor GmbH)
High-quality, hygiene-optimized materials are tough when especially facing critical drinking water properties. The optimized design guarantees low pressure losses and the best possible flow without dead spaces. Installation and control functions, such as a precision guide for pressing tools and a colour-coded film with clear dimensional specifications ensure quick, reliable installation. The fittings of the new S-Press Plus generation are available in 16 mm to 32 mm sizes and are compatible with the manufacturer s existing composite pipes and pressing tools.
The high-level stability and resistance of the fittings are the result of combining a fitting body made from dezincification-resistant brass alloy or the high-performance plastic PPSU with press sleeves made from stainless steel. Extensive tests show that the fittings can withstand very high tensile forces and have a high resistance to corrosive substances. Since all materials are to be found on the Federal Environmental Agency s positive list, all S-Press Plus fittings are suitable for unrestricted use in drinking water and heating installations.
Safety for perfect press joints
The specially designed sleeve profile and the re-designed stop ring ensure that the press jaw is guided with precision. Inspection windows in the stainless steel press sleeves make it easy to check the depth to which the pipe is inserted before pressing. The stainless steel press sleeves are covered with a film coded according to size that can be easily peeled off after pressing, thus allowing a second pressing check in addition to the "unpressed and leaking" function. The color coding and a clearly legible dimensional specification are always clearly visible. The pressing and verification of the system, which is fully certified by the German Technical and Scientific Association for Gas and Water (DVGW), therefore works perfectly even in poor lighting conditions or confined working spaces.
Fast planning and easy installation
The fitting is designed for optimum flow, enabling planning with minimum loss of pressure. The products achieve one of the best-in-class zeta values in composite pipe systems. The fittings can also be processed without needing to be bevelled or calibrated. Installation requires only three steps: cut, insert and press. Thanks to the complete compatibility of the new generation of fittings, familiar work procedures and tried-and-tested system components, such as the Uponor Uni Pipe Plus or Uponor MLC composite pipes, as well as the manufacturer s press jaws, can be used.
Technical information can be accessed using a QR code
If support is needed on the construction site, a QR code printed on each fitting enables immediate access to an online portal with technical information and helpful services. This include, for example, installation instructions and tutorials, as well as a database for project documentation and access to online orders.