Update for ProPumpsizer from Pentair Jung Pumpen
Pentair Sta-Rite and Jung Pumpen will be offering the proven ProPumpsizer 2.0 dimensioning software as an update free of charge from February 2021.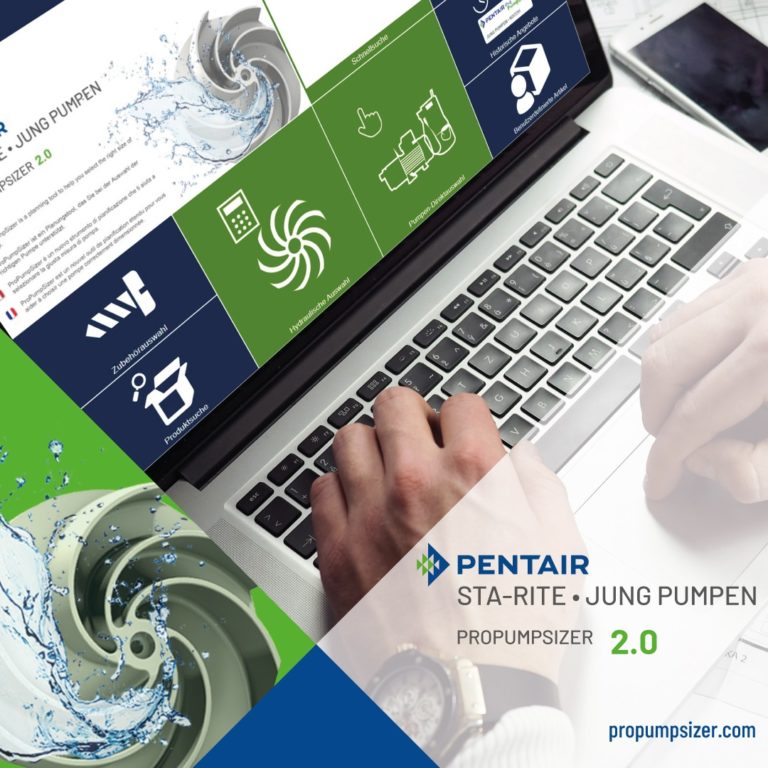 ProPumpsizer 2.0 – Pump configuration programme with many new functions. (Image source: Pentair Jung Pumpen)
Interested parties can have both the programme and the new features demonstrated in an online seminar, which is also free of charge.
Guided search for wastewater or freshwater pumps
The proven software not only has a new look, but has also been given many useful additional functions. Both wastewater technology from Jung Pumpen and freshwater pumps from Pentair Sta-Rite are available for selection. Users are guided through the programme and assisted with the necessary entries for delivery heads and quantities with the respective calculation. The cost-free programme can be used immediately by clicking on www.propumpsizer.com.
Finding the right accessories safely
The close connection of the software to the current catalogue programme offers the advantage that only accessory components are released for selection that are plausible for the respective application. Tanks and sumps, mechanical accessories as well as the necessary components of the control technology are taken into account.
Individual offer preparation and project management
All data is combined in an offer. In addition to technical information such as specification texts and drawings, this also contains all information on the hydraulic dimensioning. The login is free of charge. For registered users who also create a free account, further comfort functions are available. These include the hydraulic dimensioning, the creation of a customer database, the user's own contact details in the header of the documents for quotation as well as individual pricing and much more. Users who have already worked with the previous system can access their old quotations for at least 12 months.
Online training for ProPumpsizer
To teach the basic functions, Pentair offers an online seminar that can be booked at www.jung-pumpen-onlineakademie.de/webinars. Alternatively, a video is available via the same platform and can be viewed at any time.