Ultra-Miniature Solenoid Valve Saves Space, Uses Less Energy
A new ultra-miniature, HDI (high density interface) 2-port latching solenoid valve which is ideal for OEM applications that demand ultra-low energy consuming components that generate minimal heat and are as compact as possible, is now available from Lee Producs.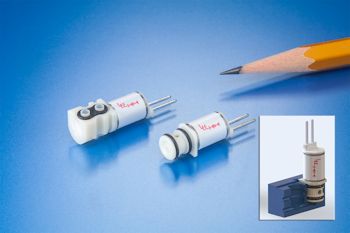 Lee Products
The trend for engineers and machine builders requiring innovative, energy-efficient components for compact and or portable battery powered instruments is growing so these magnetically latched solenoid valves are an ideal solution.
The valves weigh less than 2.5 grams, measure just 27mm L x 7.1mm D which results in smaller manifolds. For example, the HDI 2-port, NC SOV offers a 0.300" (7.62mm) centre-to-centre spacing and so reduces the area needed for a given number of valves, which means less space and valuable cost savings. The close spacing also reduces the length of the connection passages from valve-to-valve inside the manifold which is particularly important when fast system response time is critical.
Available as a plug-in or face mount option the valves have a low internal volume of 28µL for the plug-in and 34µL for the face mount which results in a reduced carryover and so allows for faster purging and throughput. They have an operating pressure range of inlet: Vac – 45 psig, a differential of 10 psid (max) and a leakage of less than 50 SµL/min @ 10 psid, Air 70ºF (21ºC).
They have an operating temperature range of 40ºF to 120ºF (4ºC to 49ºC) and require only momentary (10 to 30 ms) pulses of current to switch to and remain in each state with the polarity of voltage on each terminal pins controlling the switched position.
Other benefits are long-life expectancy (up to 250 million cycles on air depending on the seal material and application parameters), repeatability, high flow capabilities in a small package (450 Lohms) and exceptional sealing performance (max leakage of 50µL/min @ 10 psid on air) which equates to both weight and size savings.