Ultra-Flo System Restores Profitability in Deviated Well
In May, 2008, JJ Tech was contacted by an operator with a deviated Tuscaloosa well (2846' pump depth) on a rod pump system that was experiencing heavy operational expenses because the rods frequently cut the tubing string.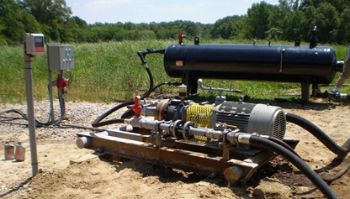 Ultra-Flo system replaces rod pump system (Image: JJ Tech)
This required monthly workover expenses to pull and replace the damaged segments of tubing, which also resulted in a significant loss of production. The operator needed a system that could operate dependably in a deviated well and restore profitability.
JJ Tech replaced the rod pump with a Ultra-Flo system consisting of a downhole jet pump that has no moving parts and a HydraCell diaphragm surface pump mounted in compact fashion on a production skid.
The operator needed the well to produce 250 bbls/day of fluid with the same oil production rate. Ultra-Flo increased fluid production by 20%, to 300 bbls/day, while maintaining the same oil cut. The jet pump operated without any down hole maintenance for three years. Operational cost has been greatly reduced, and this well still continues to operate profitably.