Ultra-Compact Gear Pumps For Smooth, Pulse-Free Flows
Where OEM machine building applications require ultra-compact pumps to provide highly accurate, smooth and pulse-free flows for dispensing and metering duties, MZR pumps from HNP Mikrosysteme are the ideal solution.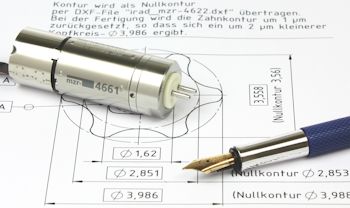 Michael Smith Engineers
Available from pumping specialists Michael Smith Engineers the MZR range of micro annular gear pumps are ideal for applications which require fast and very accurate dispensing and metering of small volumes of liquids.
The MZR range covers many duty parameters including dispensing volumes from 0.25 microlitres flow rates from 1 microlitre/hour to 1.1litre/minute and discharge pressures between 0 and 150 bar for liquids with viscosities between 0.3 cP to 1,000,000 cP.
The range is made up of six series of pumps including the High Performance Series for more challenging dosing tasks requiring high precision, covering medium to high pressures, high temperatures and a wide viscosity range. These pumps feature a double-sided bearing system and are driven by a powerful DC servomotor with integrated control. The Hermetic Inert Series are ideal for more aggressive liquids thanks to the material options available for their internal wetted components. For example, nickel-based tungsten carbide, zirconium oxide or diamond ceramics, so they offer outstanding chemical and wear resistance.
As the name suggests, the Low Pressure Series are designed for precise dosing of low viscosity liquids at low pressures. They are suited to less demanding applications, such as transferring low volumes of non-lubricating liquids, whereas the Modular Series are ideal for handling corrosive liquids as the wetted components are available in a choice of different inert materials.
The Magnetic Hermetic series pumps are suitable for handling crystallising, air or moisture sensitive liquids because the pump has no shaft seal as it is replaced by a liquid separating cup and a magnetic drive. The design and materials of this ultra-compact pump with integrated speed controller ensure leak-free operation with long-service life and low energy consumption.
Finally, for hazardous area applications HNP offer their Ex-Version of the high Performance Series and the Hermetic Inert Series which are equipped with Ex-approval drives. These pumps have ATEX approval according to EU Directive 94/9/EC.
All the MZR pumps give low pulsating flows they are compact and can be used on non-lubricating liquids. Their output is accurate and precise, the pump heads have low dead volumes and there are a wide range of wetted material options and combinations. As well as their comprehensive MZR pump range, HNP Mikrosysteme also offer a complementary range of accessories and filters.
MZR micro-annular gear pumps from HNP are ideal for OEM system builders, analytical instrumentation manufacturers, fuel cell development, continuous processing applications and low volume dosing and dispensing applications.