TrunkPump Introduces New Skid Steer Hydraulic Dewatering Attachment
Lowell Scott Enterprises Inc., manufacturers of the acclaimed PTO-powered TrunkPumps, announce the addition of a new line of hydraulically-powered dewatering pumps to their wide-ranging application of products.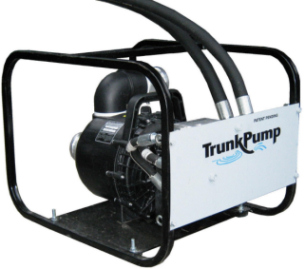 TrunkPump HYD-3D
The new HYD-3D provides the same low-maintenance, one-person operation conveniences as other TrunkPump models, with the added benefit of being powered by skid steer remote hydraulics and other hydraulic power sources.
The HYD-3D provides a new dimension in pumping for construction companies, farmers and municipalities who need to move water or irrigate. Those looking for an innovative alternative to conventional pumping methods will find the new HYD-3D TrunkPump, with its uncomplicated design and compact package, a must-have equipment staple. The HYD-3D may be purchased manufacturer-direct currently, and will soon be available through a host of domestic and international suppliers.
"Since our first product's debut, a frequent request has been for a TrunkPump that could run on a skid steer," said Chris Pappalardo, TrunkPump Co-Founder. "After a substantial R&D investment, we are excited to offer this highly innovative pumping choice that advances our original technology onto a new, ground-breaking platform," Pappalardo continues. "Our goal is to change the way people move water – take the work out of pumping. Our new HYD-3D model broadens our simple-use technology to ever-expanding markets. It has been well received by industry professionals who immediately envision multiple new ways to generate revenue."
About TrunkPump
Founders Doug McFarland and Chris Pappalardo originally designed TrunkPump in 2004 to solve golf course water problems. TrunkPump has since evolved to provide water movement uses to universities and municipalities, commercial institutions and industries, as well as farmers and residential home owners throughout North America and abroad. TrunkPump is easy and fast to use. No more frustrations fighting long hoses, needing a two-person crew to transport a pump safely, limited gas tank capacity, or the poor reliability of existing water pump products on the market. TrunkPump's design eliminates all of these inconveniences. TrunkPump has steadily grown to meet the demands of the marketplace by addressing problems and finding simple, practical solutions.