Triangle Pump Components Announces Release of New Spherical Pump Valves
Triangle Pump Components, a manufacturer of efficient, long-lasting, and dependable positive displacement pump components, announces the release of their WG Sphera series of stem-guided, single or dual spring assisted, and caged metal spherical suction and discharge pump valves.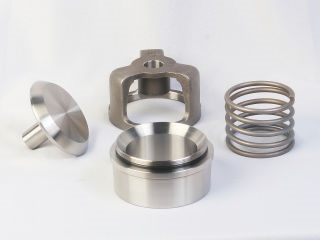 Triangle Pump Components announces release of new spherical pump valves (Image: Triangle Pump Components Inc.)
TPCI's Executive Vice President, Mike Shorts, states "we've just given PD pump users a new option to improve the efficiency and durability of their pumps. Field test data is already proving at least double the valve longevity at similar or better pumping efficiency. We're excited to help our customers reduce their operating costs."
The new WG Sphera series of suction and discharge valves come in 3 standard configurations: 2, 4, and 6 pounds per square inch of valve area, and all are now available with a resilient seat option to improve efficiencies in abrasive environments. According to Shorts, "field test data continues to exceed our expectations and customers are converting to our WG Sphera valves at a fast pace. Flow simulation data will be completed soon to confirm field performance and provide customers with numbers to validate our observations." Highly customizable to meet user requirements, each component of the WG Sphera series valve is available individually. These valves are priced similar to the existing Resista AR valves with the same level of quality.