Treatment Plant Timer Cuts Village Hall Energy Use 
A village hall set in the picturesque Wye Valley area of outstanding natural beauty in Herefordshire, UK, is benefiting from a simple energy-saving adjustment made to its onsite wastewater treatment system.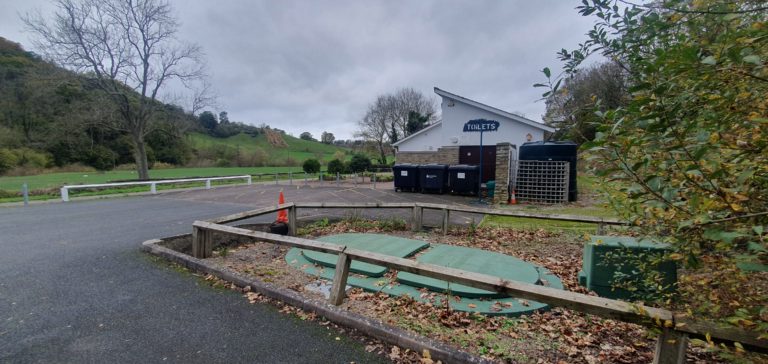 WCSEE treatment unit at Bishopswood Village Hall. (Image source: WCS Environmental Engineering)
Bishopswood Village Hall has been served by a package treatment plant from WCS Environmental Engineering's HiPAF - high performance aerated filter - range since 2000. The introduction of a timer to operate the blowers in the plant's submerged aerated filter (SAF) unit is successfully reducing its power consumption by 50%, meaning significant savings on energy bills for the community facility.
Bishopswood lies within the rural parish of Walford on the banks of the river Wye. Its 130-capacity village hall is used daily for community groups and classes for up to around 20 people.
Loadings increase during weekends when the hall hosts larger events and functions such as weddings and parties. Additionally, there are seasonal fluctuations, particularly for outside toilet facilities, which are closed in winter but used by large numbers of walkers in the summer.
The hall is owned by the village hall charity and run entirely by the trustees and volunteers. The site is not connected to mains drainage and the HiPAF packaged treatment system has been effectively treating wastewater to meet the environmental standards set by the Environment Agency for over 20 years.
Energy-saving challenge 
WCSEE liaises closely with its customers and understands the need to reduce power consumption of its SAF technology, with organisations being hit hard by rising energy bills. For a volunteer-run community facility in daily use, such as a village hall, increasing costs are likely to have a worrying financial impact.
In addition, there is a strong desire from many groups and organisations to limit their carbon emissions, as global focus on climate change and net zero carbon intensifies.
In the spring of 2022, a representative from Bishopswood Village Hall contacted WCSEE to request a new maintenance manual for its onsite treatment plant. During the conversation, WCSEE's technical team outlined what measures could be taken to reduce the plant's power consumption, to help reduce carbon footprint and energy bills.
As a result, the customer opted to have a timer retrofitted to operate blowers on the treatment plant's SAF unit. WCSEE engineers fitted the timer to the system in May 2022.
The technology
Blowers provide air for the biological treatment processes that take place in a SAF unit. They typically operate 24/7, accounting for more than 90% of the energy used in the SAF process.
Following ongoing research by WCSEE into reducing energy consumption of its SAF technology, blowers are now timed to pulse air into the process, rather than operate continuously.
Timers are fitted to SAF blowers as standard and existing systems can be easily retrofitted by WCSEE engineers. The measures are cutting the amount of energy consumed by blowers by up to 50%.
While the timer concept was simple, researchers found that determining the optimum times to turn blowers on and off proved more of a challenge. Part of the studies involved exploring the impact of turning the blowers off for longer periods, including overnight.
In general, research found that the pulsating air intervals still provided effective aeration for reliable treatment, while halving energy consumption. The intervals give the added advantage of not exceeding the hourly on-off cycles required by blower manufacturers to maintain guarantees.
Outcome 
The installation of the timer to the village hall's treatment system in May 2022 led to an almost immediate reduction in energy use - current energy savings on the air blower are in the region of 45 percent. At the same time, the level of treatment required by the Environment Agency has been maintained.
Tests show that the dissolved oxygen levels remain constantly above the required level during the off cycle, ensuring full treatment with no detriment to performance. The plant is operating at 5mg/l suspended solids, 2mg/l biological oxygen demand (BOD5) and 0.5mg/l ammonia, significantly better than the Environment Agency's generally accepted 20:30:20.
There is potential for further energy savings to be made by adding a thermostatic control to the cooling fan in the kiosk. If thermostatically controlled, the fan would only run in the summer.
WCSEE technical director Andrew Baird said: "We were very pleased that Bishopswood Village Hall is benefiting from the installation of a timer to its existing WCSEE treatment plant.
"Organisations of all sizes are facing huge rises in energy bills. For many small businesses and community facilities, cutting power consumption will be a priority to try and control costs. "Building timers into blowers has proven to be a simple and low-cost option to reduce power consumption, addressing the market need for both net zero and cost efficiencies."
Bishopswood Village Hall treasurer Jon Liddle said: "We were very happy to have WCSEE engineers come back to our village hall to fit a timer to our treatment plant. It has reduced the plant's power consumption and we expect to see this reflected in our energy bills.
"As a volunteer-run facility, we are grateful for any operational savings we can make, particularly given the current rising energy costs we are all experiencing. We are also pleased to be reducing our carbon footprint and becoming more environmentally friendly."
Substansive research 
WCSEE's research over the past five years to enhance process efficiency of its systems has included a study, alongside University of Portsmouth PhD researchers, at Petersfield wastewater treatment works in Hampshire. As well as the timers, the research has led to other energy-saving developments for the patented SAF technology.
One example is, the introduction of a submerged moving-bed, fixed-film reactor which can treat wastewater with greater energy efficiency compared to traditional SAFs, in a tighter site footprint whilst meeting environmental compliance.