TopClaean Pumps for Hygienic Pumping
The TopClean CS range of hygienic centrifugal pumps was designed to meet the exacting standards required for reliable and hygienic transfer of sensitive liquids in the pharmaceutical, biotechnology, food and brewing industries.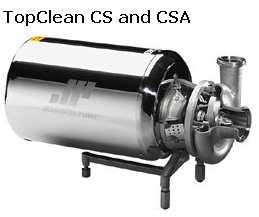 (JP Pumps Ltd)
Available from JP Pumps (a division of Johnson Pump AB), the TopClean range includes models that are certified according to 3.1B, FDA, 3A and EHEDG. Their high quality, robust modular design, combined with low NPSH values, ensure a reliable performance combined with low life cycle cost.
TopClean pumps are very easy to clean, using either CIP, SIP (clean-in-place, steam-in-place) or manual methods, thanks to features such as standard construction materials of AISI 316L low carbon stainless steel and electro-chemical polished surfaces as standard. Also, for more sensitive applications smoother finishes up to RA 0.5 micron are possible, if required.
The pump casings are engineered to a minimum thickness of 6mm; investment casting, while the open, non-clogging impeller is designed to ensure high performance, high efficiency, low NPSH and exerts a minimum of axial thrust on the motor bearing. Inspection and maintenance is simplified thanks to a clamp seal locking device making the pump easy to disassemble.
Other features include, a wide range of mechanical seals to suit the application, choice of motors complying with international standards as IEC and hygienic connections which meet all internationally recognised standards.
Ease-of-cleaning makes TopClean pumps suited to most hygienic pumping applications such as, ultra filtration, reactors, tablet coating, vaccines and antibiotics in Pharmaceutical / Biotech industries and also in food, dairy, beverage, confectionery and CIP and SIP applications.
The TopClean range of pumps provide flow rates from 1m3/hr at 1450 rpm up to a maximum of 350m3/hr at 2900 rpm and pressures from 2.8m up to a maximum of 100m. However, for applications requiring higher flows the CSK version can deliver flows up to 550m3/hr.