Top Five Semiconductor Manufacturers Purchase 40 Percent of the Combust, Flow and Treat Products
The semiconductor industry is a large and growing market for combust, flow and treat (CFT) products. In 2019 the industry will spend $15.4 billion for these products. The top five purchasers will account for 40 percent of the total.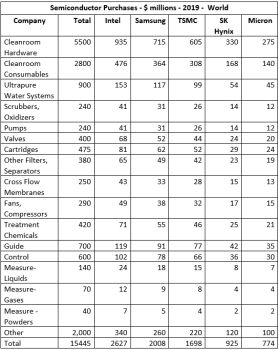 McIlvaine
Four of the top five purchasers are integrated suppliers with both chip fabrication and proprietary designs. TSMC is not an integrated supplier but has a 56 percent share of the independent foundry market.
The processes used by these manufacturers include ultrapure water to wash chips, acids to etch them, cleanrooms with sophisticated HVAC systems to prevent particulate damage, wastewater treatment and air pollution control. There are many individual steps as a chip moves from tool to tool.
The top 100 purchasers represent over 80 percent of the market. These companies are centralizing decision making and purchasing. They are also remotely monitoring operations and utilizing total cost of ownership evaluations to make decisions.
Consolidation is continuing and it is likely that the top 100 purchasers will account for 90 percent of the market within a decade. These purchasers have plants throughout the world. Therefore market research based on the market size in China or the U.S. is not nearly as relevant as the market size for each of the top 100 purchasers.
The challenges to improve performance increase as line size decreases. Chips with 7nm line sizes are now in production and 5nm production is slated for 2020. This progression needs to be accompanied by similar advancement of CFT products. This means that suppliers must understand the processes generally but also the unique variations applied by individual purchasers.
This focus on individual purchasers and their unique processes dictates collaboration among disparate supplier divisions. ABB makes cleanroom robots as well as a range of guide, control and measurement products. Danaher has acquired Pall and Chemtreat to supplement its Hach operations and now can supply a range of filters, treatment chemicals and measurement equipment.
Danaher can use its strong position in cross flow membranes and measurement to increase penetration for its other products. The right treatment chemical in an accurately measured amount is necessary to keep the cross-flow membrane clean. Danaher how has all the products to provide the operational synergy to maximize membrane performance.
Emerson purchased Tyco Valves from Pentair. This expands its synergy between valves, controls and instrumentation.
Now with low cost sensors, wireless technology and capable partners, CFT suppliers can add remote monitoring and edge computer packages to their offerings and substantially increase revenues.
Multi product suppliers would be well served to determine the opportunity at each of the top semiconductor purchasers and then devise a strategy to encourage collaboration among divisions to pursue each. This represents a sea change in the route to market caused by international consolidation, IIoT and the Industrial Internet of Wisdom (IIoW) to empower IIoT.