Tool For Tenders or Bids
Since January 2009 the entire product catalogue has been available online via the community of interests IGH.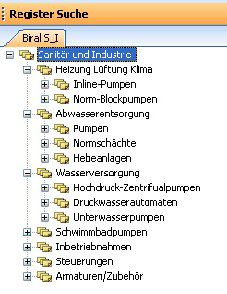 Biral
You can now directly download the product catalogues for bids:
http://www.igh.ch/SC/Kat-HLKS-d.html
Heating, ventilation, air conditioning - catalogue Biral AG HLK
Sanitary installations and industry - catalogue Biral AG SI
If you prefer to have the catalogues available on CD, simply order them from IGH.
To carry out a product search you can follow the directory tree or find the product via its type designation or item number.
Close cooperation between IGH and the software providers to the domestic technology segment ensures that your familiar program environment remains unchanged.