Three Largest Valve Companies have only 5.2 Percent of the Asian Valve Market
The three largest valve companies (Pentair, Emerson and Flowserve) have captured 10 percent of the world industrial valve market but have only a 5.2 percent share of the Asian market.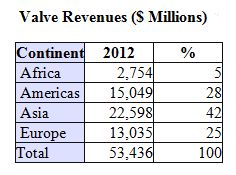 The top three valve companies are U.S. based. Their penetration of the Asian market has been only half what it has been in other markets. Asian sales range from 20 to 22 percent of total sales for the individual companies. (Image: McIlvaine)
This is the conclusion reached in Industrial Valves: World Markets published by the McIlvaine Company. The total world market last year was over $53 billion. Asia accounted for 42 percent of the market.
The international valve companies see this lack of Asian penetration as a growth opportunity. They are building manufacturing facilities in Asia and striving to reach the same penetration level as in other regions. There is another equally compelling argument that this lack of strength in Asia opens the door to more international competition. Other suppliers both Asian and non-Asian have the opportunity to build a base in Asia which will allow them to compete more effectively in the rest of the world. Chinese manufacturers are moving up the quality chain and even supplying nuclear grade valves.
More than 80 percent of the new coal-fired power plants will be built in Asia over the next few years. The majority will be of the supercritical design which requires valves to function under higher temperatures and pressures. The successful valve suppliers will be able to use this expertise as supercritical boilers are built elsewhere in the world. China is a leader in coal-to-chemicals and coal-to-gasoline. Valve requirements for this application are challenging. This is another opportunity for competitors. The many new chemical plants under construction in Asia offer similar opportunities.