The World's Largest Injection Pumps
Sulzer Pumps has been awarded an order to supply four seawater injection pumps that will be the largest ever built. The pumps, to be supplied to the Azerbaijan International Operating Company (AIOC) for installation on their Compression and Water Injection (C&WP) platform for the Azeri Development Project in the Azerbaijan sector of the Caspian Sea, are each rated at approximately 26 MW absorbed power.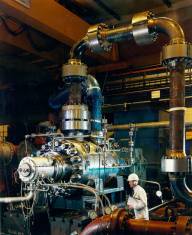 Seawater injection pump(Source: Sulzer Pumps)
This is some 50% greater power than the previous record, also set by Sulzer. The pumps will be driven at 4800 rpm by Rolls Royce RB211 gas turbines. A "low flow" pump cartridge fully interchangeable with the main pumps will also be supplied to meet the early phase injection requirements. All pumps will be string tested at full speed, full load driven by the gas turbines at Sulzer Pumps test facility in Leeds, UK, where the pumps will also be built.
Delivery is scheduled for April to July 2004 and is to meet stringent weather window requirements for transport to the Caspian.
This latest order follows on from the success of Sulzer Pumps in building the world's high-pressure centrifugal injection pumps for installation on the bp operated Thunder Horse project in the Gulf of Mexico.
About Sulzer Pumps
Sulzer Pumps has been a builder of centrifugal pumps for more than 135 years, providing pumping solutions and services to the oil and gas and hydrocarbon processing industries, the pulp and paper Industry, power generation plants as well as customers in the water treatment & distribution, food, metals and fertilizer businesses. Sulzer Pumps products range from end suction process pumps optimized for specific applications in the pulp and paper industry through to individually engineered high-energy barrel pumps for power or oil & gas duties. Innovative state of the art products include multiphase pumps for oil extraction and medium consistency pumping systems for paper production. Sulzer Pumps has a network of manufacturing and packaging facilities in 15 countries with sales offices, service centres and representatives in more than 150 countries around the world. A global leader in its selected markets, Sulzer Pumps generates an annual turnover of some 650 million Euros and employs 4700 people worldwide.
Sulzer, founded in 1834 in Winterthur, Switzerland, is a globally active corporation with businesses in pumps, surface coating technology, process technology, turbomachinery maintenance and fuel cell technology. Consolidated net sales for 2001 reached about 2,000 million Euros.