The Right Solution for Each Task
If you want to keep up with a market that is becoming more and more competitive, you have to make sure your production environment is as efficient as possible. In many areas, this means a transition from the traditional drum storage to containers, a development which, in turn, places new challenges on pump technology.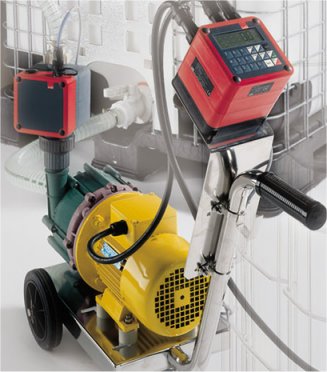 For professional container emptying, Lutz-Pumpen, Wertheim can always offer the right pump system completely tailored to the respective demands and media.
For cases where small quantities have to be drained from containers, complete sets with pump tube, hose and nozzle – optionally also combined with a flow meter - are available for easy, precise and economical top emptying via the dome cap.
Focus of the sets are sealless drum pumps which have a safe and fixed position inside the container due to an emission-proof adapter. The pumps are light and easy to handle, are service-friendly and are available in different materials, ideally suitable for small quantities.
As soon as the viscosity exceeds 500 mPas, vertical eccentric screw pumps demonstrate their forte even in containers. Depending on the model, the pump capacity ranges from 12 l/min. up to 120 l/min. You can choose among the full scope of standard materials.
When handling fluids that are harmful to the environment, these are best drained or refilled with the vertical container pump through the container cap. This is where a container pump does an excellent job. Low speed, smooth running and carefully matched materials guarantee high performance and utmost economic efficiency. New material combinations even have increased the scope of applications.
Alternatively available to the container emptying are self-priming double diaphragm pumps with dry run capability. These pumps are ideal to be mounted stationary and are suitable for pumping nearly all kinds of liquids, even critical ones, gently and safely. Available materials are PP, PVDF, nylon, aluminium and stainless steel.
Mobile or Stationary
Horizontal self-priming centrifugal pumps operate reliably and are suitable for top or bottom emptying via dome caps or floor drains. Optionally they are mounted on a cart and thus render the unit highly mobile. The self-priming pumps feature a rotating mechanical seal and were developed in particular for transferring chemicals from containers and open vessels as well as for draining tanks.
Ideal for applications that require mobility are the horizontal centrifugal pumps with magnetic coupling and dry run capability. These pumps in PP or ECTFE operate reliably, even in heavy duty applications. They are driven by an A.C. motor or a three-phase motor. Due to a special arrangement of the magnets, the centrifugal pumps have absolute dry run capabilities.
For all described pump systems a suitable accessory range is available. This is a contribution to "Responsible Care", the chemical industry's voluntary commitment to continual improvement in all aspects of health, safety and environmental performance.
Irrespective of which system you decide on: we guarantee safe, efficient and clean operation.