The Right Drive Solution for Every Delivery Profile
There is no single ideal drive concept when it comes to energy efficiency and cost effectiveness in applications involving pumps, fans and compressors. Depending on customer requirements, four fundamentally different concepts are possible, for which Siemens provides energy-efficient drive solutions.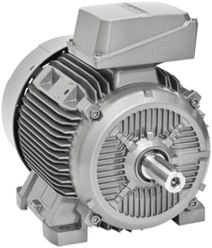 Low-voltage asynchronous motors are optimally suitable for applications in pumps, fans and compressors, and thanks to their high efficiency, they ensure low environmental load.
With pumps, fans and compressors, the right drive solution depends on the delivery profile in each case, and on the control accuracy required by an application. Deciding on the most suitable drive concept with regard to energy efficiency and cost effectiveness first requires an analysis of the application. This must take account not only of investment costs but also of plant-specific key data as well as the relevant delivery rate.
Throttle control for the upper control range
Throttle control represents the simplest and lowestcost version to procure. It consists of a combination of circuit breaker and contactor in continuous operation, with the delivery rate controlled by an electromechanical throttle valve.
Since the motor operates throughout at rated speed, an energy-efficient motor such as the Simotics lowvoltage asynchronous motor with IE3 efficiency is especially useful. However, this drive concept only pays off in the longer term when the delivery rate approximates to the maximum power and is subject to only slight or brief fluctuations. Fluctuating delivery rates result in pronounced partial load losses, similar to driving a car at full acceleration and using the brake to control the speed.
Two-point control
Two-point control with soft starters is especially suitable for variable tapping such as level control in a tank. Thanks to on/off mode using the Sirius switching devices from Siemens, this drive concept ensures that sufficient liquid is always available in the case of variable tapping. The level is monitored by a sensor. If the level drops to the minimum, a pump switches on with a soft starter that then switches off again when the upper level is reached. The pump and tank are selected here such that there are relatively long on and off phases, and frequent switching operations are avoided. The energy consumption of this switching device drops here almost to that of a simple contactor. Thanks to its electronic generalized phase control at startup and run-down, the soft starter avoids severe shocks in the piping system and reduces wear and tear on the mechanical components. The motor and pump, for their part, run at rated speed with optimal efficiency and thus ensure efficient operation.
However, pumps, fans and compressors are often subject to stronger fluctuations in delivery rates. Two drive concepts are possible here with which energy requirements in the case of strong fluctuations in the delivery rate can be halved compared to a throttle control, for example, and in extreme cases, they can be reduced by up to 70 percent.
Soft starter frequency inverter cascade circuit
In the case of the cascade circuit, the drive solution consists of one or more soft starters combined with a frequency inverter that handles fine adjustment. With a cascade circuit comprising a soft starter and a frequency inverter, the soft starter is automatically connected at a fixed speed after the maximum pumping capacity of the speed-controlled first pump has been exceeded. The frequency inverter now controls the precise requirement between 50 and 100 percent. On the one hand, this allows optimal utilization of the advantages of both drive technologies ‒ frequency inverter and soft starter. On the other hand, by dividing the pumping capacity between two smaller units, delivery is significantly more energy-efficient, particularly at lower loads.
Cascade circuit with frequency inverter control alone
If the process requires high control accuracy and speed, the obvious choice is to use frequency inverter control exclusively. Even with intense fluctuations in delivery rates, the frequency inverters adjust the motor speed quickly and precisely to the currently required delivery rate. Only the currently required energy is taken up, with maximum ease of control. With regard to availability, the cascade circuit offers a further benefit thanks to redundant configuration of the pumps.
No matter which of the four concepts is used when considering economic and ecological aspects: The components and systems of the product families Sirius switching devices, Sinamics frequency inverters, and Simotics motors can also be combined in individual ways. In this way, they enable optimal interaction with the relevant system components and seamless integration into the higher-level automation landscape.