The New Wilo-Stratos: Versatility Redesigned
Wilo has optimised a stellar performer among its glandless circulation pumps and launched the "new" Stratos for hot-water heating systems, air-conditioning systems and closed cooling circuits.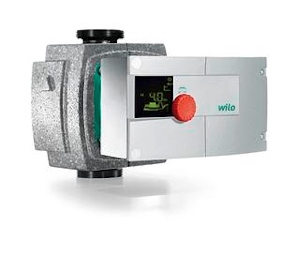 The new Wilo-Stratos: versatility redesigned (Image: Wilo)
The newly enhanced pump can now deliver to systems based on actual need thanks to the efficient "Q-Limit" operating mode, and it also boasts a new and improved energy efficiency index of 0.20 or less. This not only exceeds the value prescribed by the 2015 Ecodesign Directive, it also meets the ErP benchmark requirement.
High efficiency redefined
By optimising the hydraulics and motor, Wilo has succeeded in improving the energy efficiency index once again. Thanks to a new index of ≤ 0.20 for individual pumps, the "new" Stratos greatly exceeds current ErP requirements. As a result, the pump meets the benchmark set by the Ecodesign Directive for the most efficient circulation pumps. That s an impressive 15-percent increase in efficiency compared to the "old" Stratos line. The new software for the highly efficient Wilo-Stratos also features the new "Q-Limit" operating mode. It can be combined with any control mode (Δp-v, Δp-c, Δp-T, manual control mode) and is a convenient feature for limiting the volume flow to a selected value (between 25 and 90 percent of the maximum flow rate). When the set value is reached, the pump is controlled on the pump curve along the limit, but never goes beyond it. Thanks to this new function, the "new" Stratos not only saves more energy, it reduces system noise at the same time.
Easy and flexible installation, long service life
Proven quality and superior reliability remain core features of this model. Thanks to their familiar "red-button technology", the Wilo-Stratos guarantees easy and reliable operation. The freely positionable display, which features optimised legibility, allows for vertical and horizontal installation. The pump housing with cataphoretic coating prevents corrosion caused by condensation, making it extremely durable. Thanks to front operation and direct access to the terminal room, the Stratos simplifies handling and allows variable installation positions with a compact design for space-efficient heating distributors.