The New Rovatti 10E-180 for Your Deep Installations
With the aim of providing solutions in the pump industry, Rovatti Pompe continues to field products capable of representing suitable answers for engineers, installers and hydraulics specialists.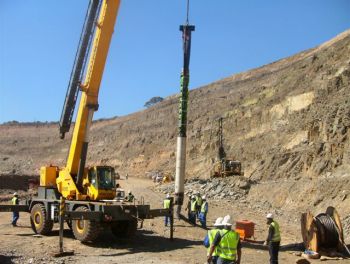 Image: Rovatti
In fact, as enquiries regarding high-performance pumping stations are globally increasing representing a dare for manufacturers, the Italian Company is proud to present the new groundbreaking 10E-180 series of 10" mixed-flow borehole electric pumps extending the established E-Series (constantly subject of development and technical renovation).
New 10E-180 range, in addition to offering an hydraulic efficiency close to 80%, presents many distinguishing characteristics regarding manufacture as the use of AISI 316 stainless steel investment casting impellers which are dynamically and hydraulically balanced.
This type of execution is able to ensure maximum reliability thanks to the single monolithic construction, a very thick structure and by presenting no welding joints together with a compact and smooth surface which has the further advantage to improve hydraulic efficiency.
In addition to this, all pumps in the 10E-180 range are cataphoresis treated in order to considerably increase the resistance to wear and corrosion. Rovatti cataphoresis treatment is characterized by a high adhesion to the surfaces and uniformity of the coating also in the inner cavities of the component.
The result is a black semi-gloss protective layer with homogeneous thickness that produces a reduced surface friction in the hydraulic channels improving pump performances. "Fundamental for the contemporary industry - explains the Rovatti Technical Manager - is to provide pumping solutions for a wide range of liquids ensuring long-life functioning next to reduced energy consumption. With this in mind we work every day to develop advanced technical solutions to steadily improve efficiency, reliability and maintenance of all our pumps".